Gateway NV59C Notebook Review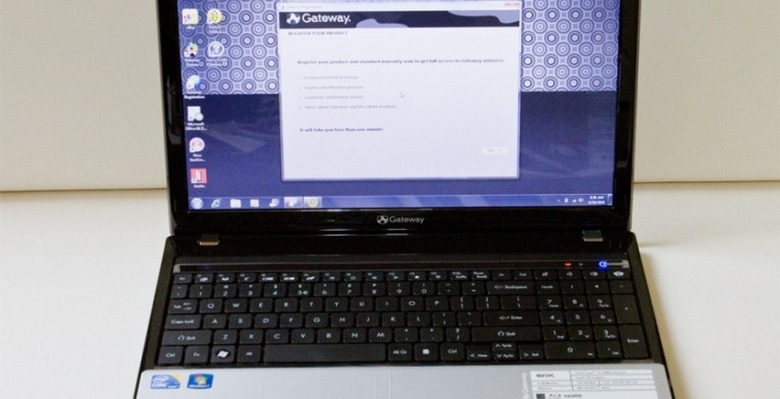 As notebook markets go, the 15.6-inch segment is probably the most hotly contested; manufacturers are forced to look to gaming, multimedia or battery longevity in order to differentiate their wares. Gateway's NV59C09u picks HD video as its forte, squeezing in a Blu-ray drive as standard together with easy connectivity for your HDTV. Check out the full SlashGear review after the cut.Features
Under the hood is an Intel Core i3-330M 2.13GHz processor paired with 4GB of RAM and a 320GB hard-drive. The 15.6-inch display runs at 1,366 x 768 and uses integrated Intel HD graphics, while connectivity includes WiFi b/g/n, three USB 2.0, HDMI, VGA, ethernet, audio in/out and a 5-in-1 memory card reader. There's also a Blu-ray drive, 1.3-megapixel webcam and integrated microphone, but no Bluetooth (even as an option).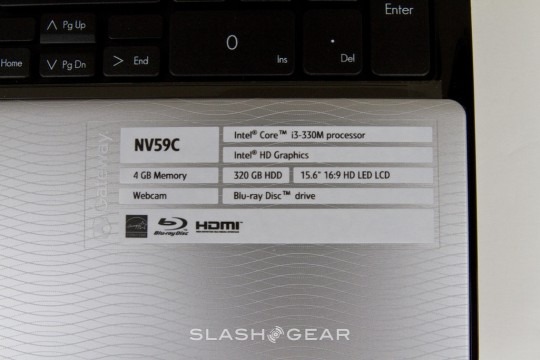 Multimedia is certainly Gateway's intent with the NV59C09u – the Blu-ray drive and HDMI output are testament to that – but the notebook's display disappoints. Picture quality is fair, with no noticeable ghosting, good color balance and high brightness when notched all the way up, but the 1,366 x 768 resolution is underwhelming when you consider the rest of the hardware is capable of Full HD. Meanwhile audio performance is loud but lacks definition. Better to plug in your HDTV via HDMI, and enjoy the very quiet Blu-ray drive. The NV59C09u is one of the quieter multimedia notebooks we've used, something you'll appreciate if you're watching a more subdued film.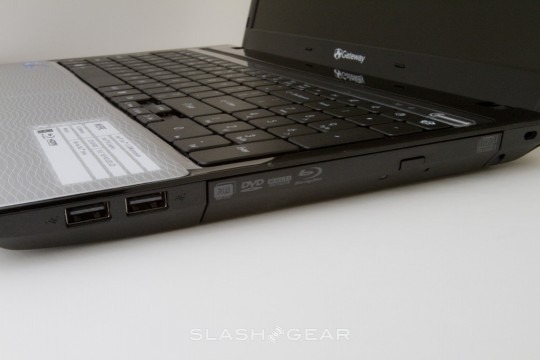 Design
Design-wise, the NV59C09u is inoffensive but hardly inspiring. The shiny aluminum-effect lid and matching palm-rest contrast nicely with the chiclet keyboard, and Gateway has managed to squeeze in a separate numeric keypad despite the notebook measuring 15.0 x 10.0 x 1.3 inches and tipping the scales at 5.4 pounds. Key feel is reasonable, and the trackpad – which supports multitouch gestures and is slickly integrated into the palm-rest – is responsive, though the buttons underneath could do with a little more tactile feel. The top row of keys double up as multimedia shortcuts.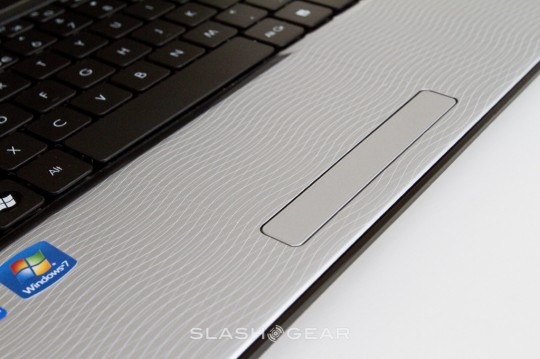 Performance
We used Geekbench to test the NV59C09u's performance, a synthetic test that measures processor and memory. Overall, the Gateway scored 3,925, held back primarily by its memory bandwidth. In the real-world, that translates to strong abilities in everyday tasks, such as browsing with multiple tabs open while simultaneously playing music or even a Blu-ray disc in the background, though the integrated graphics mean gaming or heavy-duty media processing aren't the NV59C09u's forte. Expect significantly lowered framerates and a generally poor experience.
[sgbenchmark id=101 show=score]
Battery Life
Gateway reckon you'll see up to 4.5hrs runtime from the standard six-cell battery, but you'd need to be doing very little with the NV59C09u in order to get near that. Playing video constantly took it from 100-percent to shutdown in around 2.5hrs, while a mixture of media playback, browsing over WiFi and word processing stretched that out by a further hour.
Applications
Preloaded applications are often little more than an excuse for unwanted bloat, though Gateway do at least show some imagination with the NV59C09u. A dedicated shortcut button loads their Social Networking Service, an aggregator app that pulls in Facebook, Flickr and YouTube updates from your friends and contacts. It's also possible to add new updates of your own via the same UI, though there's no Twitter integration which seems an obvious omission. Elsewhere it's the usual batch of trial Office 2007 Home and Student, Norton Internet Security and various DVD and backup tools, while the webcam app – which pops into view annoyingly every time you move the mouse near the top of the screen – allows you to capture stills and video. Unfortunately, despite the 1.3-megapixel resolution, the webcam falls short in comparison to rivals; video in particular proved prone to blur and graininess.
Verdict
With an MRSP of $799.99 (NV59C09u) – including a two-year warranty rather than the usual one-year – the Gateway NV59C09u is a solid if uninspiring choice. We'd like to see a higher resolution display to match the Blu-ray drive, and for a multimedia notebook the 320GB hard-drive is miserly and, at 5,400rpm, slow. Performance, meanwhile, is sufficient for everyday tasks but gamers should look elsewhere. The HD-capable optical drive is the NV59C09u's biggest draw, though we'd suggest shopping around since mainstream notebooks often see significant discounts and could well offer better storage than the Gateway manages. NV59C series starts at $579.
Gallery