Gateway NV5214u Notebook Review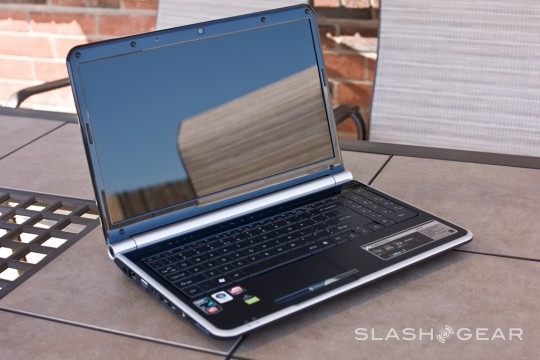 While expensive ultraportables may get the bulk of online attention, the real battle is going on at the budget end of the market, where netbooks, CULV ultra-thins and cheap notebooks are fighting it out for a slice of the lucrative back-to-school audience. Into the fray steps Gateway, no stranger to the segment, and they've brought along their NV5214u, very much the desktop-replacing notebook rather than a slick but underpowered netbook. With an MRSP of $499.99 it certainly ticks the budget box; check out the full SlashGear review after the cut to see if it can tick any others.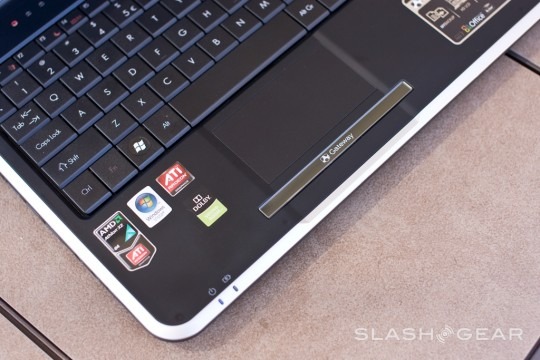 First impressions are fair. To judge solely by appearance, Gateway have thrown some decent design at the NV5214u: the chassis and trim is obviously plastic, given the price, but they're nicely patterned and cleanly molded. Hands on and most of the common touch-points are solid, with the lid showing some flex but the keyboard being generally firm and the trackpad mildly textured. The single mouse button bar hides two keys, with a Gateway logo in the middle, and the pad itself recognizes various multitouch gestures including chiral-scroll and pinch-zoom. Since the 15.6-inch 16:9 aspect LCD display is pretty broad, Gateway have squeezed a separate numeric keypad to the right of the keyboard, which means you end up with a slightly smaller 'board overall compared to a normal desktop unit. It's still usable, though, even with the flat rather than dished key-caps.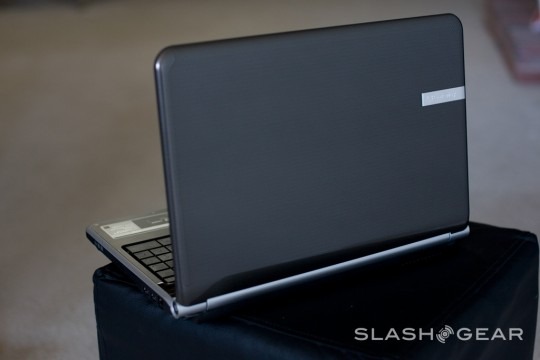 The screen itself is a 720p-capable 1,366 x 768 panel with LED backlighting, and it's bright enough that we could use it comfortable outside, albeit not in direct sunlight. That's paired with an AMD Athlon 64 X2 QL64 2.1GHz processor, 4GB of DDR3 memory, ATI Radeon HD 3200 graphics and a 320GB SATA Hard-drive, and running Windows Vista Home Premium 64-bit as its OS. Ports include a 5-in-1 memory card reader, three USB 2.0, both HDMI and VGA output, but no eSATA; wireless connectivity is limited to WiFi a/g/n, and does not include Bluetooth. All of that, plus the 6-cell Li-Ion battery, adds up to a hefty weight of 6.82lbs, which means the NV5214u is not really something we'd like to be carrying every day.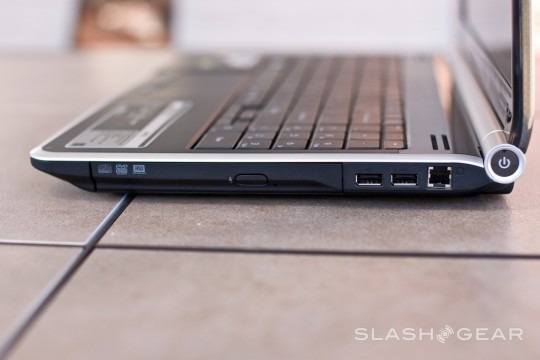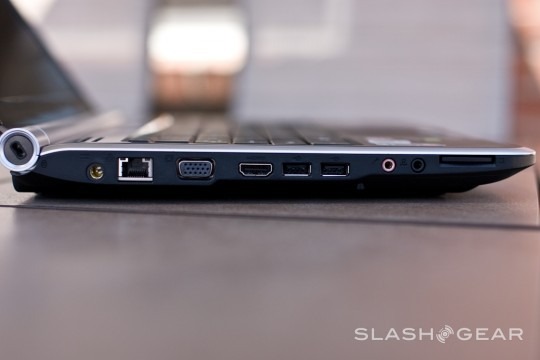 Performance is neither great nor bad, and certainly snappy enough for everyday use. We put it through its paces with Geekbench, and the NV5214u scored 2389 overall; decent processor scores were dragged down by middling memory performance. Still, it's comfortably ahead of Atom-based netbooks which can retail for around the same figure. If your primary uses are to be browsing, watching some video, messaging and running Office apps, you'll have no problems doing that on the NV5214u, and we were comfortably able to multitask with a few browser windows, IM and music in the background.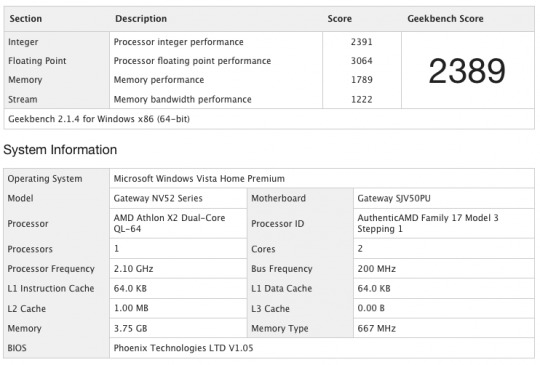 That music sounds fair through the NV5214u's stereo speakers, though quality takes a big dip as the volume rises. There's also no separate subwoofer as you sometimes see in desktop replacement machines, so we'd be more likely to plug in an external speaker set. What you do get is easy access to the RAM, hard-drive and miniPCI wireless card, thanks to a dog-leg hatch on the bottom. When we plugged in large display via HDMI the NV5214u held its own, both with DVD playback and downloaded HD files.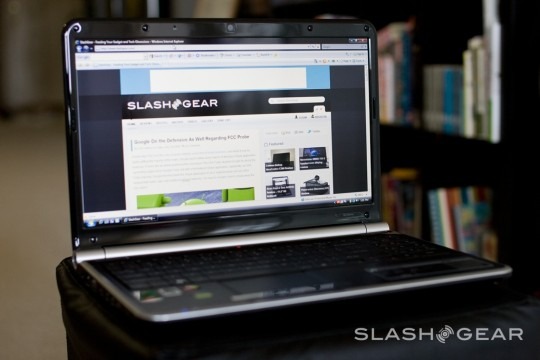 As for battery life, you'll get enough juice for a film and some left over. We switched brightness to full, left WiFi turned on and started playing an HD video file (on the NV5214u's own display, rather than via the HDMI port) and saw 2.5hrs of runtime. That's reasonable for a budget notebook of this size, though pales in comparison to similarly priced netbooks and CULV machines.
In the end, then, it comes down to portability versus performance. If you're planning to carry around your notebook between classes (or indeed regularly between rooms at home) then you may want to look at a lighter, more power-independent model than the Gateway. If, though, you're content with just occasional lifting then the greater performance of the NV5214u's grown-up components easily oust the netbook competition. The design is fair and construction reasonable, but it's the budget price that really tips the scales in the Gateway NV5214u's favor.