Gateway NV Series pack AMD E-350 and C-50 Fusion APUs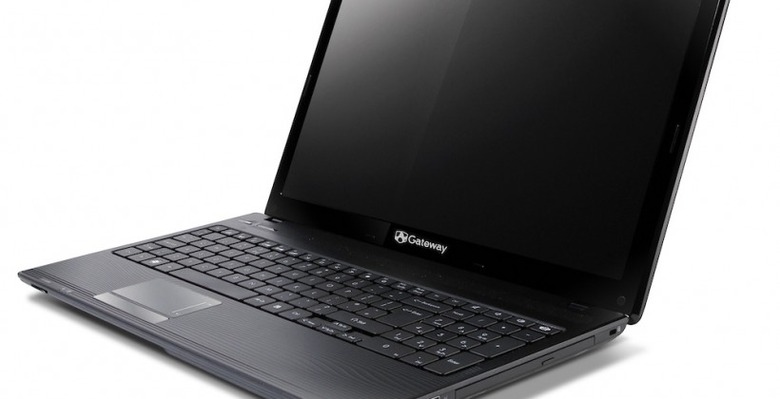 AMD's new APU-based Fusion processors continue to score design wins, with Gateway the latest to slot the chips – along with the Radeon GPUs – into their notebooks. The Gateway NV51B05u leads the new NV Series, complete with AMD's E-350 processor and Radeon HD 6310 graphics, WiFi b/g/n, HDMI with Full HD 1080p output support, and a 15.6-inch 1366 x 768 display.
Three USB ports, a DVD burner, gigabit ethernet and a 1.3-megapixel webcam are all standard across the line. The NV51B05u has 3GB of RAM and is priced at $469.99, but $449.99 gets you the NV51B02u and the range as a whole starts from $399.99 (for the AMD C-50 powered NV51B08u).
There's also a "social network" button with quick access to Facebook, Twitter and other sites, along with a memory card reader and one year warranty. The new Gateways are available now.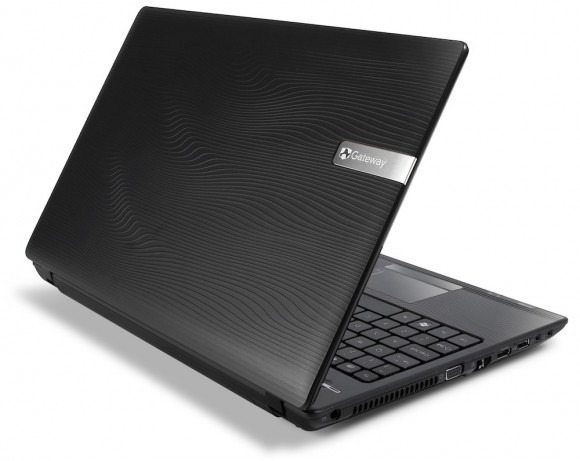 Press Release:
Gateway Debuts New NV Series Notebooks with Latest AMD Processors

New models deliver enhanced mobile computing for digital media entertainment; large 15.6-inch HD LED-backlit display at an affordable price

IRVINE, Calif., March 21, 2010 – Gateway today unveils new models in its Gateway NV Series line of notebook PCs with the latest AMD processors, including new models in AMD's Vision Technology line, which deliver enhanced performance capabilities for mobile computing.

The flagship model of the new line is the Gateway NV51B05u, which features an AMD E-Series processor E-350 with Vision Technology and ATI Radeon HD 6310 graphics to deliver heightened performance in a value-based notebook. Customers can experience true cinematic digital media playback, improved video processing for vivid web and video content, as well as accelerated handling of mainstream applications. As a result, customers can enjoy incredibly smooth and clear 1080p HD video, enhanced performance for playing casual games, improved HD browsing, clear DVD viewing, and the ability to handle multiple tasks at once.

The Gateway NV51B05u is available now at technology retailers at a manufacturer's suggested retail price of $469.99.

The new Gateway NV Series notebooks are an affordable option for a range of PC customers such as small businesses, families and students. The new line delivers a true notebook computing experience with a full-sized keyboard, large 15.6-inch HD widescreen Ultrabright™ LED-backlit display, ample memory and a large hard drive, three USB ports, an HDMI port and more great features. The new line starts at a value-priced MSRP of $399.99.

"Mobile computing is something that everyone has embraced – and even those on a tight budget are now able to have a full-featured notebook for computing and staying in touch on-the-go," said Eric Ackerson, senior product marketing manager for Gateway notebooks. "The new computing capabilities are paired with a full suite of features and extras that give our customers what they need to work, study, connect and have fun. Plus, we've reached a new level of affordability with budget-minded price tags, so our customers get an incredible bang for their buck."

Gateway NV51B05u Delivers Immersive HD Entertainment

Powered by the AMD E-Series Processor E-350 with Vision Technology utilizing the AMD Fusion chipset, the Gateway NV51B05u provides a powerful environment for multi-tasking and entertainment. Running casual games, online video and enjoying movies is a snap thanks to the highly-capable processing powers as well as the ATI Radeon HD 6310 graphics and 3GB of memory. In addition, the notebooks can even handle smooth playback of HD video and audio including 1080p HD video.

The Gateway NV Series builds on its performance capabilities with a 15.6-inch HD Widescreen Ultrabright LED-backlit display to deliver a first-rate viewing experience. Vibrant color and detailed images are crisp and clear thanks to the display's 1366x768 resolution. Plus, the 16:9 aspect ratio allows consumers or end-users to view multiple windows and applications. Customers who want to share video on the go can use the HDMI port to connect the Gateway NV Series to a home theater or external LCD to deliver crisp high-quality visuals and high-fidelity audio with a single cable.

Additional models in the new line-up also provide enhanced processing power from AMD. The Gateway NV51B02u also has the new AMD E-Series Processor E-350 with Vision Technology and has an MSRP of $449.99. The NV51B08u has an AMD C-Series processor C-50 with HD Internet Technology at the low MSRP of $399.99.

Connectivity on-the-go for Staying-in-Touch

The Gateway NV51B05u and other NV Series models let consumers stay in touch through web conferencing, still photos and video emails via the integrated 1.3MP High Definition webcam. The video is crisp and clear thanks to its 1366x768 resolution, while the supporting voice microphone delivers superb audio quality. All units in the NV Series come with integrated 802.11b/g/n Wi-Fi Certified connectivity to provide a convenient connection to hot spots and wireless networks. In addition, Gigabit Ethernet LAN connectivity ensures a fast wired online connection.

Extras and Features Increase Notebook Enjoyment

The Gateway NV51B05u and additional NV Series notebook PCs include a range of features that make them more enjoyable to use. They each come with an integrated DVD super-multi double-layer drive for reading and writing CDs and DVDs. Also, digital media can be downloaded to the notebooks through the media card reader and three USB ports. Gateway's popular "social networking" button is integrated into these new NV Series notebooks, providing customers with one-touch access to their social networks, including Facebook, YouTube and Flickr. Plus, customers can navigate through websites, move between documents and input characters more efficiently thanks to the notebooks' multi-gesture touchpad, touchpad lock, and dedicated numeric keypad.

In addition to hardware features, the new Gateway notebooks come with a suite of productivity applications that let customers get the most from their PC the minute they start using it. The systems come with Windows 7 Premium, Microsoft Office Starter 2010, a 60-day trial of Norton Internet Security, as well as Adobe Flash Player 10 and Adobe Reader 9.1. Gateway Power Management preserves battery life while MyBackup functionality gives customers a way to quickly and easily back-up all important files to another location such as a USB drive or another hard drive.

Gateway Limited Warranty, Service and Support

The Gateway NV Series notebook PCs are backed by a one year limited warranty.(2) Gateway's commitment to quality and reliability is evident in its award-winning line of PCs as well as in its exceptional service and support programs. In addition to the company's standard limited warranty options,, its extensive online support center helps customers maximize their PC investment; it gives them easy access to customer support representatives and information on important issues such as warranties, technical issues and upgrading.(3)

About Gateway

Since its founding in 1985, Irvine, Calif.-based Gateway has been a technology pioneer, offering stylish, user-friendly products and world-class customer service. Gateway is a wholly owned subsidiary of Acer Inc., the world's second-largest PC company.(4) Through collaboration with suppliers, the company strives to design environmentally friendly products and establish a green supply chain. See www.gateway.com for more information.

# # #

All offers subject to change without notice or obligation and may not be available through all sales channels. Prices listed are manufacturer suggested retail prices and may vary by retail location. Applicable taxes extra. ©2008 Gateway, Inc. Gateway Terms & Conditions of Sale apply. Trademarks used herein are trademarks or registered trademarks of Gateway, Inc. in the United States and other countries. Intel and Core are trademarks or registered trademarks of Intel Corporation or its subsidiaries in the United States and other countries. Other product or service names mentioned herein are the trademarks of their respective owners.

1) Accessible capacity varies; MB = 1 million bytes; GB = 1 billion bytes.

2) Limited warranties and service agreements apply; visit gateway.com or call 1-800-846-2000 for a free copy. Service agreements are issued and performed by third parties. May not be available in all locations. Availability varies. Other conditions apply.

3) Service methods subject to change without notice or obligation.

4) Source: Gartner FY2009 data