Gateway LT21 series netbook latest to get Atom N450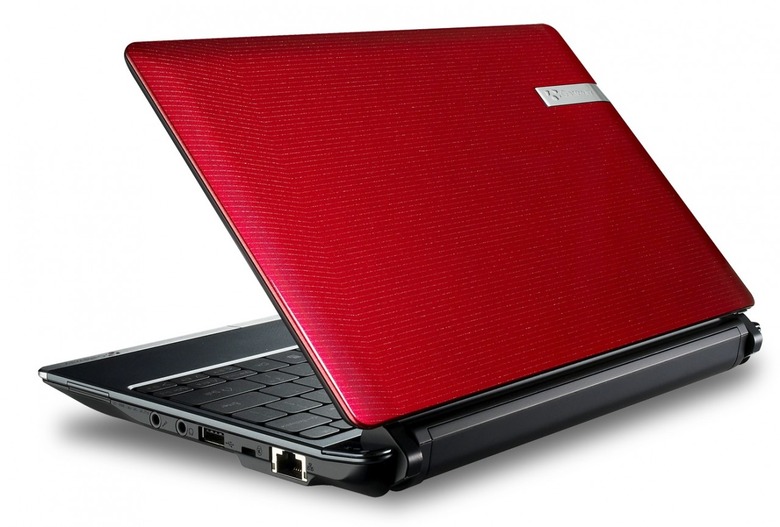 Gateway have announced their latest netbook, the LT21 series, a 10.1-inch Atom N450 1.66GHz machine.  The Gateway LT21 has a 1024 x 600 display, 250GB hard-drive and 1GB of memory, together with either WiFi b/g or b/g/n depending on SKU; you also get Intel's GMA 3150 graphics and up to 10hrs of battery life.
To make that 10hrs you'll need the 5,600mAh extended battery, while other models only get the regular 4,400mAh pack that's apparently good for up to 8hrs runtime.  Ports include three USB 2.0, a multiformat memory card reader, audio in/out and ethernet, and there's also a multitouch trackpad, speakers and a digital microphone along with the webcam.
The Gateway LT2118u will arrive later in January with the extended battery, 250GB hard-drive and WiFi b/g/n, priced at $349.99.  Other SKUs will also be available, priced from $299.99.  The LT21 series will be available in black, white and red.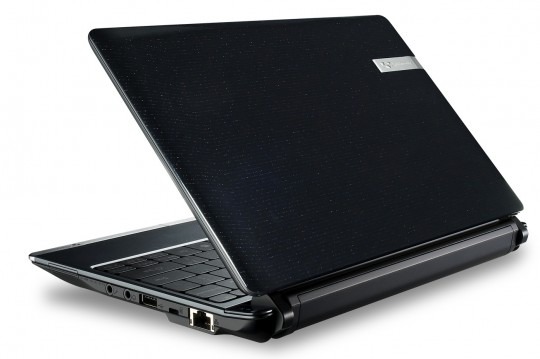 Press Release:
Gateway LT21 Series Netbooks Deliver Ten Hours of Battery Life to Stay Better Connected, Productive

New 6-cell battery options, powerful Wifi 802.11N long-range wireless for enhanced connectivity; Latest Intel tech and keyboard design deliver improved overall usability

IRVINE, Calif., Jan. 6, 2010 – Gateway Inc. today introduces the Gateway LT21 Series netbook, which helps customers stay productive and connected for longer than ever with up to 10 hours(1) of battery life, as well as models with 802.11N Wifi and the latest technologies for mobile computing.

The Gateway LT21 netbook models with the 6-cell Li-ion Extended (5600mAh) battery achieve unparalleled battery uptime. When combined with the new faster and more reliable 802.11b/g/N Wifi wireless connection, Gateway customers can use their on-the-go time to be productive and have fun.

Additional Gateway LT21 models are available with the standard 6-cell Li-Ion battery (4400mAh) and 802.11b/g Wifi and provide up to eight hours of battery life and a reliable wireless connection.

"Netbooks have been firmly embraced by consumers as an incredibly convenient, easy-to-use way to stay connected, be more productive and stay in touch," said John Nguyen, product marketing manager for Gateway. "Gateway LT21 Series netbooks are designed to go anywhere for use by anyone, as their sleek form factor and intuitive design naturally fit into how people live and connect today."

Offering the latest in technology, this ultimate mobile computing companion features the latest technology including an Intel® Atom™ N450 processor and an integrated webcam. Plus, its new sleek design has been updated so that it is more comfortable to use and transport. Weighing only 2.76 pounds and measuring only about an inch thin, the Gateway LT21 netbook is easy to carry by hand or in a book bag or purse, so customers will have it handy to connect to the Internet, stay in touch, and access social networks like Facebook and YouTube.

Performance and Connectivity a Step Ahead

The new line of Gateway LT21 Series netbooks uses the latest Intel N450 Atom processor to deliver enhanced speed and responsiveness. In addition, the new Intel® Graphics Media Accelerator 3150 graphics with 64MB of dedicated video memory and support for Microsoft DirectX® 9 provides excellent graphics performance for crisp and clear visuals.

In addition to boosting performance, the new Intel Atom N450 processor requires less power, further contributing to the long battery life. So no matter which battery customers choose – the 6-cell Extended battery that delivers up to 10 hours of battery life, or the Standard 6-cell Li-ion Standard battery that delivers up to eight hours – they can be assured they're getting long battery life.(1)

Designed to keep customers connected on-the-go, Gateway LT21 netbooks are equipped with either 802.11b/g/N or 802.11b/g Wifi wireless to for a secure and fast wireless connection. For personal visual communications, the netbooks are equipped with a built-in webcam that can be used to record video emails, video chat as well as capture memories with still photos and live video that can be posted to personal blogs and websites. Also, the netbooks' built-in digital microphone keeps background noise levels low for better voice quality. The Gateway LT21 netbooks feature Fast Ethernet for a speedy wired connection.

Designed to be the Ultimate On-the-Go Companion

The new design of the Gateway LT21 netbook was designed with the on-the-go customer in mind. The Gateway LT Series netbook line now comes with an 10.1-inch LED-backlit TFT display that delivers a 22.2 percent power savings compared to traditional netbook displays.(2) The 10.1-inch widescreen display has a 1024x600 resolution for crisp visuals while providing plenty of room to view digital media, web pages, email and more.

The netbooks' new design includes a new larger keyboard that is 93 percent of the size of a full-sized keyboard with an enhanced design and layout that has resulted in larger keys and key pitch for an improved typing experience, especially for touch typists. Also, the 6-cell-batteries were designed to prop the netbook up slightly for a more convenient typing experience.

The unique Multi-Gesture Touchpad on the new Gateway LT21 netbooks lets customers intuitively navigate websites, documents and digital media with finger motions that are replicated on the screen. For example, customers can swirl their fingers in a circular motion to scroll through web pages, long lists of files and music playlists. Or, customers can use a pinching motion to zoom in and out on photos and documents.

Full-featured with all the latest technology features, the Gateway LT21 netbook line is ready to use for storing, sharing and enjoying digital media. They come with a full 1GB of memory and either 160GB or 250GB of hard drive space(3), so customers will have plenty of room for photos, music and other files. They can be easily connected to the latest peripherals thanks to its integrated ports; they have three USB 2.0, Ethernet and VGA as well as a multi-in-one digital card reader.

Available in Cherry Red, NightSky Black and Glacier White, the Gateway LT21 Series netbook line has a subtle wave pattern in the lid of the chassis, enhancing its appeal. Models are available with either Windows® 7 Starter or Genuine Windows XP Home.

Available Configurations Pricing and Availability

The new Gateway LT21 Series will be available later this month at many retailers in several configurations at a starting manufacturer's suggested retail price of $299.99. One of the configurations follows:

Gateway LT2118u

• Intel® Atom™ Processor N450 (1.66GHz, 667MHz FSB, 512KB L2 Cache)

• Windows® 7 Starter

• 10.1-inch WSVGA 16:9 ratio TFT LCD (1024x600 resolution)

• Mobile Intel® NM10 Express Chipset

• 1024MB DDR2 667 MHz SDRAM

• 250GB SATA 5400RPM Hard Drive(3)

• Integrated Intel® Graphics Media Accelerator 3150

• Multi-in-1 Digital Media Card Reader

• 802.11b/g/N Wi-Fi CERTIFIED®

• Built-in Web Camera

• Multi-Gesture Touchpad?

• Two Built-in Stereo Speakers

• Dolby Headphone Technology

• Digital Microphone

• Three USB 2.0 Ports

• 6-cell (5600mAH) Extended Li-ion Battery

• Chassis: Cherry Red

• Energy Star

• One-Year Standard Warranty

• 2.62 lbs.

• 10.17 (w) x 7.28 (D) x 0.99 inches (H)

• Manufacturer's Suggested Retail Price: $349.99

*Note: Also available in the same configuration and price as the above-listed Gateway LT2118u: Gateway LT2119u in NightSkyBlack and the Gateway LT2120u in Glacier White.

The Gateway LT21 netbook line comes with additional preinstalled software including Microsoft Works with Office Home and Student 2007 Trial, Gateway Recovery Management, Adobe® Reader®, and Norton Internet Security™ 2009 Trial(4).

Gateway Limited Warranty, Service and Support

The Gateway LT21 Series netbook line is backed by a one year limited warranty(5). Gateway's commitment to quality and reliability is evident in its award-winning line of PCs as well as in its exceptional service and support programs(6). In addition to the company's standard limited warranty options, its extensive online support center helps customers maximize their PC investment; it gives them easy access to customer support representatives and information on important issues such as limited warranties, technical issues and upgrading.