Gateway FX, SX and DX Series desktops get Intel Core i3/i5/i7 updates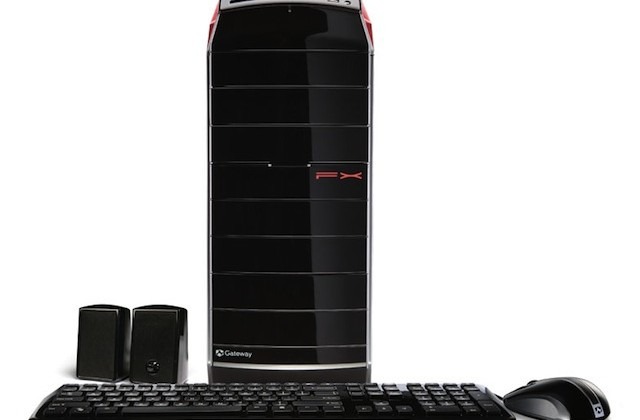 Gateway has given its desktop range a shot of Core i3, i5 and i7 in the arm, with new FX Series gaming machines, SX Series small-form-factors and DX Series multimedia machines all getting Intel's latest processors.  Of the three, the FX models are the most interesting; inside their glossy tower casings there's up to a 2.8GHz Core i7 processor, ATI Radeon HD5850 1GB graphics and up to 16GB of DDR3 memory, with prices kicking off at $1,299.99.
A 1.5GB HDD is standard, as is a DVD burner, though more expensive models get a Blu ray drive as well.  Connectivity includes a USB top panel with ports and a niche for you to store your PMP or cellphone while it's charging.
As for the other models, the SX Series kicks off at $559.99 with an Intel Core i3 2.93GHz processor, 6GB of DDR3 memory, Intel GMA X4500HD graphics and a 1TB HDD, with connectivity including HDMI for easy hook-up to your HDTV.  Finally the DX Series starts at $849.99 with a 3.2GHz Core i5 CPU, NVIDIA GeForce GT220 1GB graphics, 8GB of DDR3 memory and a 1TB HDD, together with both DVD and Blu ray drives.
Press Release:
GATEWAY BRINGS ENHANCED DESIGN, BLU-RAY DRIVES, USER FRIENDLY FEATURES AND FASTER PERFORMANCE TO ITS FX, DX AND SX DESKTOP PCs

IRVINE, Calif., Feb. 3, 2010 – Gateway today announced the addition of new models and features across its line of gaming, multimedia and small form factor PCs.

The FX Series of affordable gaming PCs gets a redesign that includes a modernized chassis and new lighting accents. The DX line of multimedia PCs and SX small form factor PCs both now include eco-friendly 1TB drives and powerful Intel Core i5 and i3 Processors, respectively. In addition, the FX and DX now include models with Blu-ray drives.

FX Series Desktops – Continuing to Redefine the Mainstream Gaming PC

With a newly designed chassis, Gateway's value line of gaming PCs continues to break all the rules, managing to pack more performance and features than ever before into a powerful PC that blows the doors off competitively priced systems. The new design maximizes usability and includes numerous additions that enhance the computing experience.

"When it comes to online entertainment, PC gaming and value, Gateway's FX Series can't be beat," said Steve Smith, Gateway desktop product marketing. "While maintaining our price/performance leadership position, the new FX models boast a race car-like design with red accents and lighting, and include several new features that enhance the convenience and use of the PC."

The new FX design makes it easy to access and use key features, providing simple and quick access to ports and peripherals. The top front of the PC includes high-def headphone and microphone jacks, while an angled media card reader makes it easy to insert, remove and transfer data from cameras and other devices. This can be especially helpful when the PC is placed under a desk.

A handy recessed storage tray on the top of the chassis makes it easy to place cameras, smartphones and MP3 players when downloading files. At the back of this tray, users will find two additional USB ports, which provide convenient connectivity for miscellaneous peripherals. Just behind this recessed area is an enclosed rear compartment which provides a place to store and hide the excess cables from any peripherals placed on the tray.

The control dial for the system's adjustable lighting effects can also be found on the top front of the unit, as well as the Photo Frame, stand by and backup buttons.

Boasting a 1.5TB drive, FX users will have plenty of room for photos, movies, music libraries and more. Tool-less expansion bays provide additional storage room for growth and backup. A convenient access door on the front of the PC conceals two external hard drive bays, and glides down effortlessly with a slight push on the front latch. Eject buttons for the optical disk drives are also conveniently and seamlessly integrated into the front sides of the PC.

Not to be outdone by its user friendly features, both new models in the FX line feature ATI Radeon HD5850 graphics and the Intel® Core™ i7-860 processor with Turbo Boost Technology for killer performance. The FX6831-03 also boasts a Blu-ray drive and 16GB of DDR3 memory, making it a true gaming solution.

Gateway® FX6831-03

• MSRP: $1,699.99

• Intel® Core i7™ 860, 2.8GHz w/Turbo Boost Technology up to 3.46GHz

• ATI Radeon HD5850 w/1GB discrete video memory

• 16GB memory (DDR3 dual channel 1333MHz)

• 1.5TB SATA hard drive (1) (7200RPM)

• 16X DVD+/-R/RW SuperMulti

• Blu-ray disc 4X BD-ROM / DVD-SuperMulti Drive

• Windows® 7 Home Premium 64-bit

Gateway® FX6831-01

• MSRP: $1,299.99

• Intel® Core i7™ 860, 2.8GHz w/Turbo Boost Technology up to 3.46GHz

• ATI Radeon HD5850 w/1GB discrete video memory

• 8GB memory (DDR3 dual channel 1333MHz)

• 1.5TB SATA hard drive (1) (7200RPM)

• 16X DVD+/-R/RW SuperMulti Drive

• Windows® 7 Home Premium 64-bit

SX Series Desktops – Tiny Desktops Big on Performance

Gateway has also enhanced its award winning SX Series small form factor desktop.

The SX2840-01 features the powerful Intel Core i3 530 processor, 6GB of RAM and 1TB of storage. This tiny little PC offers capabilities that rival those of many full-size tower desktops providing enough muscle to be used as a primary PC, while fitting nicely in a dorm room, kitchen or home office.

In addition to its top-notch horsepower, its small size and HDMI port makes it ideally suited for use in a main living area, where it can easily be used to power a home theatre system.

The new SX also features a handy device holder and front accessible multi-in-one card reader for ease-of-use. The Photo Frame button turns an attached monitor into a slide show of favorite photos, another nice feature when used in a main living area. Consumers will also appreciate the eco-friendly 1TB Green Product Hard Drive, which uses a variable RPM, consuming less energy while staying cool and quiet.

Gateway® SX2840-01

• MSRP: $559.99

• Intel Core i3 530 (2.93GHz) processor

• Integrated Intel GMA X4500HD graphics

• 6GB memory (DDR3 dual channel 1333MHz)

• 1TB SATA (green product – variable RPM)

• 16X DVD+/-R/RW SuperMulti Drive

• Windows® 7 Home Premium 64-bit

DX Series Desktops – Multimedia Workhorses now Offer Blu-Ray Drives

Gateway's multimedia powerhouse line, the DX Series, now includes a model configured with the powerful Intel Core i5 650 processor and a Blu-ray drive. Combined with NVIDIA GeForce graphics and 6GB of memory, the DX4831-03 is ideal for running demanding applications, casual game playing and graphic-intensive content creation.

DX models also include features that add value to the overall computing experience, such as:

• USB ports, audio jacks and a card reader positioned at the top of the system for maximum visibility and easy access.

• A digital device holder, providing a convenient place to rest phones, cameras and MP3 players.

• A Photo Frame button for displaying a slide show of favorite photos.

• An eco-friendly 1TB Green Product Hard Drive, which consumes less energy and runs cooler and quieter.

Gateway DX4831-03

• MSRP: $849.99

• Intel Core i5 650, 3.2GHz w/Turbo Boost Technology up to 3.46GHz

• NVIDIA GeForce GT220 w/1GB discrete video memory

• 8GB DDR3 dual channel 1333MHz

• 1TB SATA (green product – variable RPM)

• 16X DVD+/-R/RW SuperMulti Drive

• Blu-ray disc 4X BD-ROM / DVD-SuperMulti Drive

• Windows® 7 Home Premium 64-bit