Gateway EC54 Review - 15.6" CULV Notebook (EC5409u)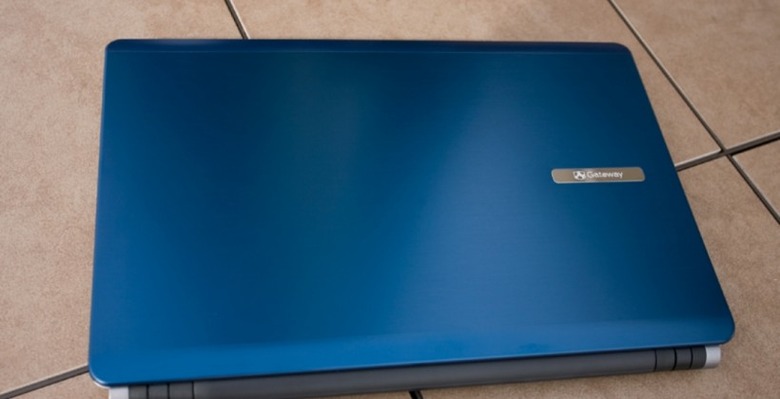 It used to be that only the smallest, most frugal of netbooks – paired with huge, 9-cell batteries – could offer the reassurance of a full day away from an outlet. Now, with the advent of Intel's consumer ultra-low voltage processors, notebooks that wouldn't look out of place on a regular desk can now boast lengthy run-times too. Into the fray steps the Gateway EC5409u, distinguishing itself not only by virtue of healthy battery life predictions – up to 8hrs, Gateway ambitiously suggest – but a reasonably-sized 15.6-inch display. Check out the full SlashGear review after the cut.
Given that Acer acquired Gateway back in 2007, it comes as little surprise that the EC54's hardware design and build quality are pretty much on a par with Acer's recent Aspire consumer notebooks. It's a reasonably stylish, if not especially eye-catching notebook, with a glossy lid that's guaranteed to pick up fingerprints. While the majority of the chassis is solid, the keyboard does feels a little flimsy; happily the trackpad is pleasantly smooth and responsive.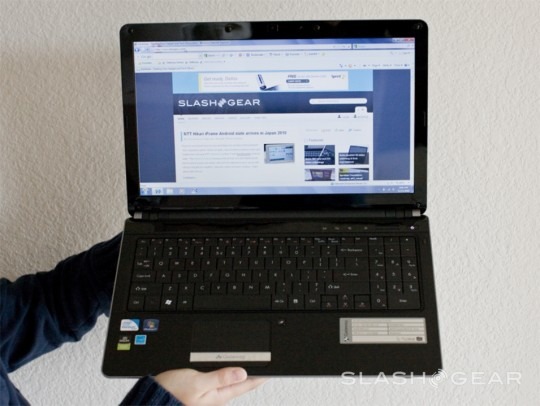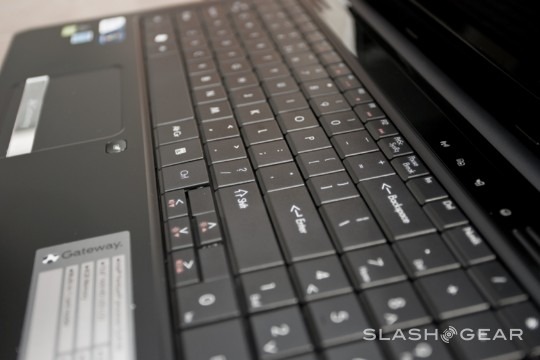 Inside, Intel's CULV processors make an appearance, in this case the 1.3GHz Pentium SU4100, paired here with 4GB of DDR3 memory and a 320GB 5,400rpm hard-drive; it comes with Windows 7 Home Premium. While we're used to seeing the CULV chips show up in 11- to 13-inch ultraportables, it's a little unusual for them to crop up in a 15.6-inch machine which might more regularly have a mainstream CPU. As a result, the Geekbench benchmarking results aren't especially impressive: with an overall score of 2105 the EC54 lags slightly behind the 1.4GHz Acer Aspire Timeline 3810T we reviewed four months ago.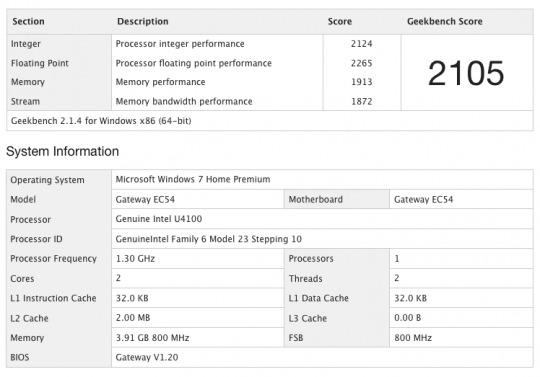 In use, however, the SU4100 manages to keep things moving at a reasonable pace, and while we wouldn't want to tote the EC54 as our video crunching machine it's nonetheless capable of simultaneous web browsing, media playback and email. Gateway have squeezed in a reasonable amount of connectivity, too, with three USB 2.0 ports, an HDMI port, multiformat memory card reader and audio in/out, along with a DVD drive. Still, we'd like to have seen eSATA, either as a dedicated port or a combo option with one of the USB 2.0. Wireless is standard WiFi b/g/n, but Bluetooth is an option.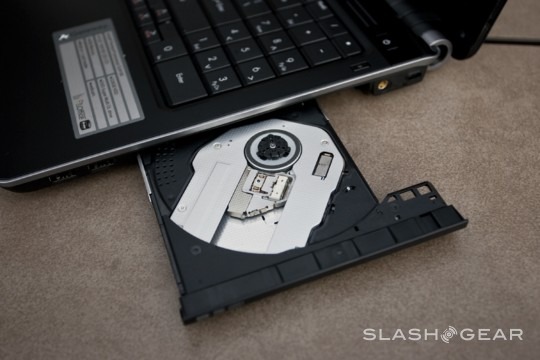 The EC54's 15.6-inch LED-backlit display runs at 1,366 x 768, and while you would be wise not to expect dramatic things from the GMA 4500MHD graphics chipset, we were at least impressed by the brightness of the panel. While it's not specifically an "outdoor" screen, we were able – at the higher end of the brightness scale, at least – to use the Gateway outside with no visibility problems. Speakers are reasonably loud and crisp, but as you might expect lack bass.
Gateway rate the EC54 at up to eight hours runtime from the 6-cell 5,600mAh Li-Ion battery. In practice we managed around seven hours of mixed usage, made up of around two hours internet surfing, an hour's worth of online flash video playback and four hours of Xvid video playback. That's a decent showing for a 15.6-inch machine, and with more cautious use – or a diet of simple typing rather than video playback, along with shutting the WiFi off and dimming screen brightness – we don't doubt that you could hit and potentially exceed Gateway's predictions.
Overall, the Gateway EC54 squeezes into a reasonable niche among CULV notebooks, offering the extended runtime we'd expect from a smaller machine with the larger display from a regular laptop. If you've found yourself squinting at 14-inch or smaller models then the 15.6-inches on offer from the Gateway – while not exactly overspilling with pixels – should give your eyes a rest. With an MRSP of $649.99, meanwhile, the impact on your wallet should be pretty painless, too; however, if you err toward performance versus prolonged time away from an outlet, we'd suggest shopping around for more powerful machines that sacrifice a little battery life.