Gartner: Android Second Largest Smartphone OS Worldwide; iOS Share Down But Not Out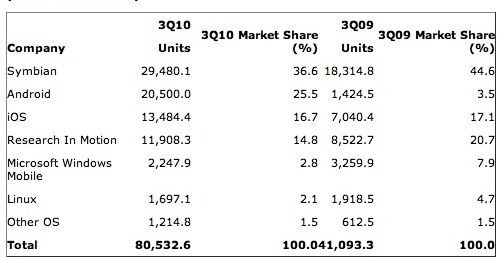 Gartner's smartphone OS market share stats are out for Q3 2010, and it makes for positive reading if you're Google. According to the figures, Android market share grew from 3.5-percent in Q3 2009 to 25.5-percent in 2010, making it the second-largest platform worldwide. In the same period, Symbian – which keeps the top spot – dropped from 44.6- to 36.6-percent, while Apple's iOS fell from 17.1- to 16.7-percent.
Sales of devices running all three platforms were up, of course, with total worldwide smartphone sales in the three month period amounting to around 81m devices. That's almost double the figure from a year ago, with Android sales being particularly strong in North America and, according to Gartner's research, accounting for 75- to 80-percent of Verizon's smartphone sales in Q3.
However, Apple's "multi-device presence" is still a formidable draw for developers, the analysts suggest, and Android still needs to find a grounding in PMPs and tablets before it will rival iOS' appeal. Meanwhile, Gartner forecasts that media tablets (such as the iPad) will reach 54.8 million units in 2011.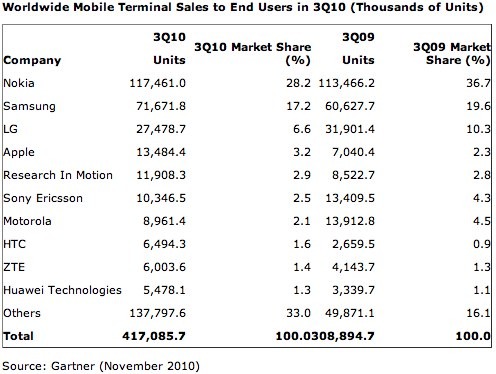 [via Android Community]