Garmin's new Approach X40 is a golf-based fitness wearable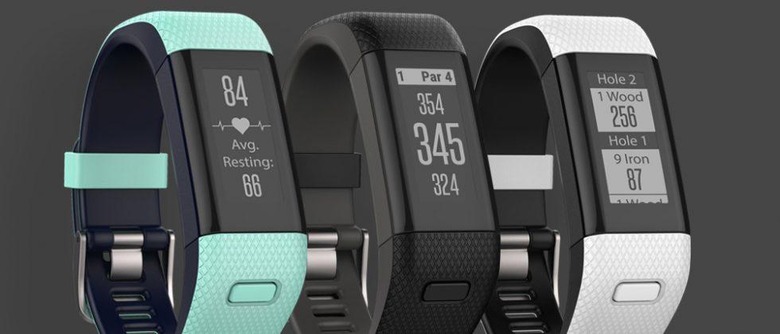 Garmin has announced a new fitness tracker today, and it has a specific appeal for golfers looking to keep active. The Approach X40 takes on the appearance of a standard digital display-equipped wearable, and has several features that are right at home on the golf course, but it balances that with other tracking options that will keep it useful even when wearers aren't teeing off.
Golfers will find the Approach X40 is pre-loaded with data on over 40,000 courses around the world. This, when combined with the GPS functionality, allows the band to calculate and display distances from the green, sand traps, and water hazards, all on each hole. It's also capable of tracking scorecards, and will transfer game data to the Garmin Connect mobile app for post-game analysis.
Garmin says the Approach X40 is compatible with their club-mounted TruSwing sensor, which will track different swing metrics and display data on the band's 1-inch touchscreen, as well as transfer it to the Connect app.
When used a standard fitness wearable, Garmin has covered all the bases. The Approach X40 tracks things like steps, distance moved, calories burned, and it even features a heart-rate monitor, all in a band that's noticeably smaller than other golf-focused smartwatches. It's water-resistant up to 50 meters, and will display notifications for things like messages, calls, and emails when paired with an iOS or Android device.
For battery life, users can expect up to 10 hours of use with GPS on, or up to five days when just used as fitness tracker. Three color options will be available when the Approach X40 is released later this year — white, black, and frost blue — at a price of $250.
SOURCE Garmin