Garmin VIRB 360 Camera Review: Rugged, Simple, Powerful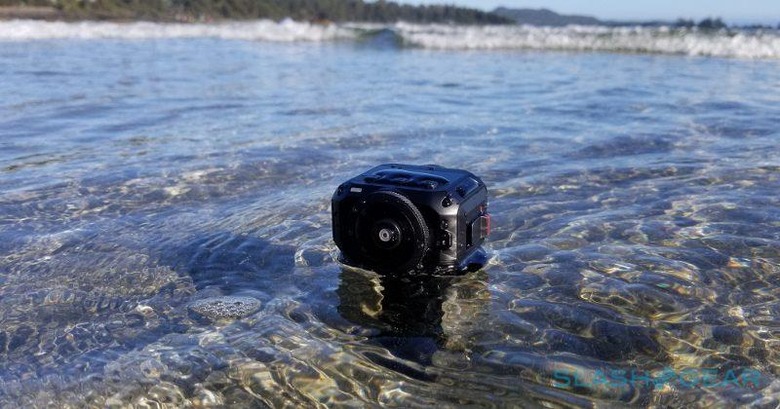 EDITORS' RATING: 8/10
Garmin is a name mostly associated with navigation devices, but it has been branching out to other consumer electronics markets, from fitness trackers to dash cams. A 360-degree camera, however, is probably the last thing you thought it would get into, and yet here it is with the VIRB 360. In a market already crammed with GoPros and action cam knockoffs, does the Garmin VIRB 360 have what it takes to stand out? We took it for a spin and was quite floored by what this newcomer was able to pull off.
The VIRB 360 is pretty much a 360-degree action camera, mostly competing with GoPros rather than Gear 360s. As such, its features and design are prescribed by that nature. For example, its rugged exterior is meant to let you take it on any sort of adventure. It is also water proof up to 10 meters, without having to enclose it any sort of case.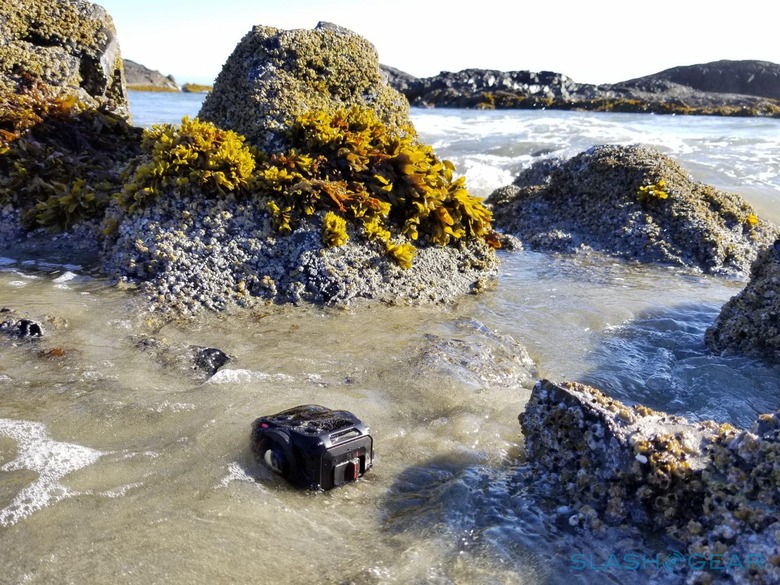 The VIRB 360 is also designed to be simple and easy to use. When you're kayaking, cycling, skydiving, or whatever thrill you prefer, the last thing you want to worry about is operating the camera. The VIRB 360 has a simple one-touch switch that immediately starts recording the moment you flick it. But here's the magic part: it starts recording the moment you turn it on. No more fiddling with record or stop controls, wasting time and taking you away from the moment. Turn on and record, turn off and stop. It doesn't get simpler than that. And for the more tech-inclined, the VIRB 360 also has voice commands so you can control it when your hands are too busy. Attaching and detaching from mounts is also a one-click affair, making it dead easy to set up or clean up in no time flat. Despite that, the connection between the VIRB 360 and mounts is sturdy, stable, and worry-free.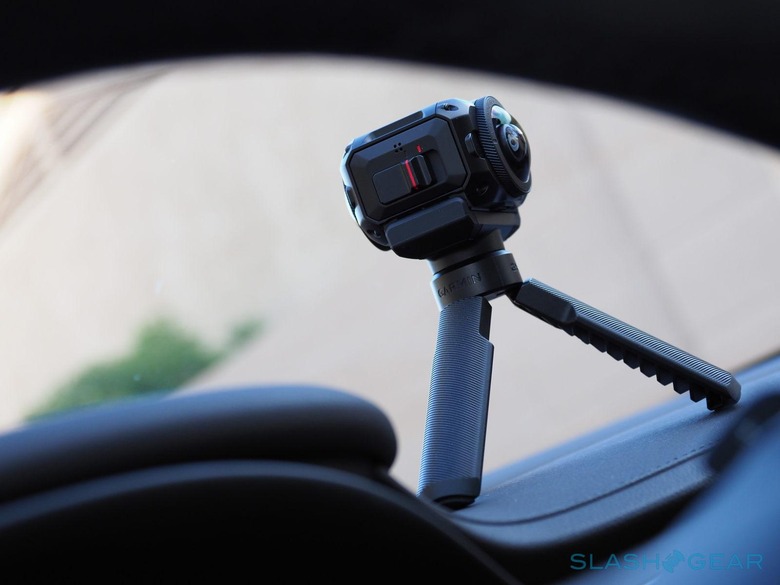 That's not to say that the VIRB 360 doesn't have non-simple features. In fact, it might be criticized for having too much. The good news is that you don't have to worry about the things that you don't need. Don't consider yourself a pro? Use the auto mode and let VIRB worry about the settings for you. Want all the bells and whistles? There's a Pro mode for exactly that. There is even an Independent mode that lets you separately control the front and the back cameras, for instances when the scene's lighting isn't even on all sides. This could be useful when recording from inside a vehicle where the interior is normally darker than outside.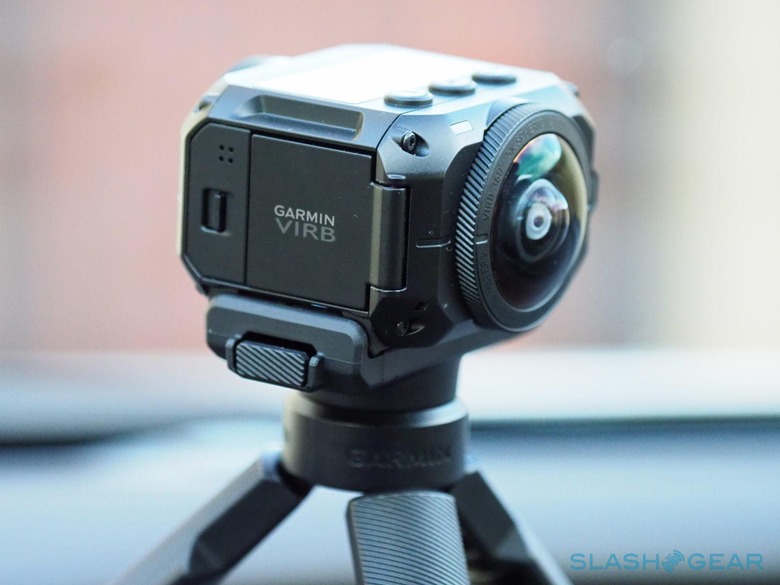 The Garmin VIRB 360 is capable of recording videos in high resolution 5.7K at 30 fps. There is, however, a slight catch to that. The camera itself doesn't stitch input from the two cameras when recording at that setting. In-camera stitching only kicks in when recording at 4K/30 fps or lower. For that 5.7K video, you will have to process it on VIRB mobile or desktop apps, which isn't exactly difficult to use. In fact, part of the magic of the VIRB 360 comes from those software.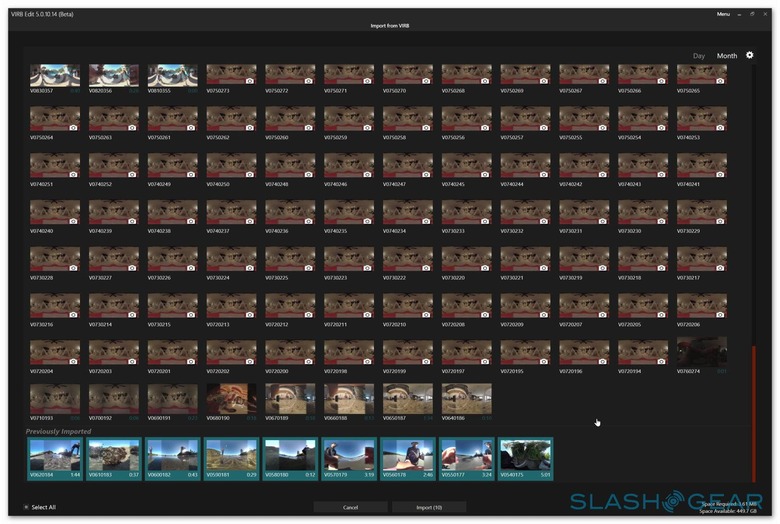 The VIRB app, available on mobile and desktop, takes care of the things that the camera itself cannot do for efficiency and speed reasons, like the aforementioned 5.7K stitching. It also does post-processing stabilization as well as an option to minimize vibrations from a moving car. Yes, the VIRB 360 itself doesn't have stabilization, but its 4K Spherical Stabilization, done by the VIRB app, makes up for that. If you noticed the "4K" there, you just caught another "gotcha". Stabilization only works with videos that have been stitched by the camera itself, which practically means 4K/30 fps videos or lower. So you'll really want to aim for 4K as your highest, unless you're using a tripod or stabilizer, in which case 5.7K will do fine.
Here's an sample of that car stabilization in action, driving inside the 2018 Audi SQ5:
If you noticed some interesting markings in that video, that's another unique thing the VIRB app adds: telemetry data. Garmin calls it "G-Metrix" and is practically an augmented overlay that shows things like your speed, direction, and more. It's one way of sprucing up an already exhilarating 360-degree video while, at the same time, providing proof that you were really going that fast.
Here's another video of that in action. Shot inside a Tofino Air floatplane, the video showcases not only the G-Metrix AR overlay but also the rather impressive stabilization processing that Garmin VIRB produces:
Of course, 360 degree videos are meant to be shared and VIRB 360 handles that too. Well, the app and your mobile device at least. There are two ways you can share 360-degrees video and photos, either after the fact or live. Sadly, live streaming functionality only works with iOS devices, hopefully just for now. Android and desktop users will have to content themselves with manually uploading the photos and videos. There is currently a problem with uploading 360-degree photos to Facebook, which fails to properly tag them as such. Garmin is already working to fix it.
Wrap-up
Rugged exterior, waterproof up to 10 meters, hi-res 5.7K/30 fps recording, in-camera stitching, live streaming, post-process stabilization, G-Metrix telemetry overlays, and, most importantly, ease and speed of use. That's just the tip of the iceberg of what the VIRB 360, Garmin's ambitious first foray into the world of 360-degree cameras, is capable of. There are a lot more, and we'll update the gallery linked to below with new shots and samples. But even with just those, the Garmin VIRB 360 is already a new contender that more seasoned players in the market can't afford to underestimate. In the very words of our own Vincent Nguyen:
"The Virb 360 is an ideal 360 camera for adventure seeking individuals whether it's in a fast car, under water or just simply capturing your kid's birthday party."
The Garmin VIRB 360 is expected to launch some time in June. Suggested retail price is set at $799.99.