Garmin Varia Vision Is A Headset Display For Cyclists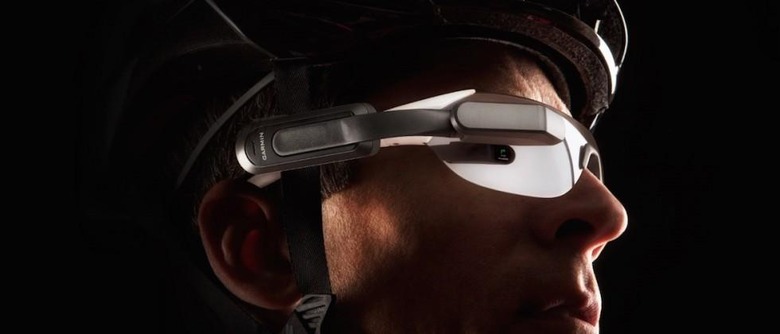 Garmin's flagship product showing at CES 2016 is the new Varia Vision headset, a Google Glass-like display that can attach to any sunglasses to help keep cyclists safe and informed while keeping their eyes on the road. The device can be worn on either side of the head, and places a small heads-up display on the edge of the wearer's field of view, displaying things like smartphone notifications, navigation data, cycling performance, and even warnings about cars approaching from behind.
Garmin says the Varia Vision weighs only 30 grams and has an 8-hour battery life. The comparison with Google Glass goes further, as Garmin's headset also features a touch-sensitive pad on the side that users can swipe and tap to navigate menus. Even better is that it will work when fingers are wet or inside gloves.
Other benefits come from pairing the Varia Vision with other Garmin cycling devices, such as the Varia Review Radar. This combination provides automatic warnings when cars are approaching, allowing the wearer to get out of the way without losing focus.
Garmin says the Varia Vision will be available by the end of March at a price of $400, making it a bit over-the-top for casual cyclists who ride in park once in a while. But for competitive cyclists and those who ride on crowded city roads everyday, the headset could offer a great combination of safety and convenience.
SOURCE Garmin