Garmin tactix GPS watch is designed for SWAT use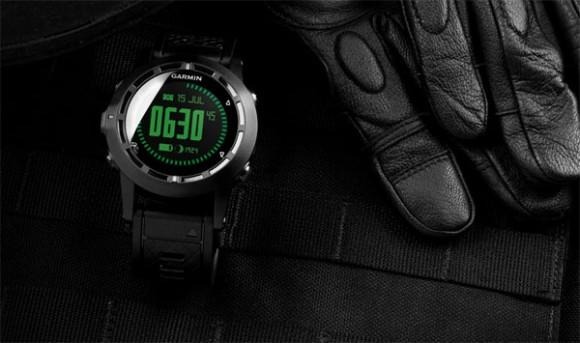 Garmin has been busy rolling out GPS watches over the last several weeks. The navigation company previously rolled out a watch called the Approach for golfers and the D2 GPS watch for pilots. Garmin has now rolled out a new GPS watch designed specifically for law enforcement and police special operations use.
The new GPS watch is called the Garmin tactix and it's described as a high sensitivity GPS navigator and ABC watch. The tactix is water resistant to 50 m depth and can run up to 50 hours in GPS mode on a single charge. Garmin equips the watch with tide data for the US and Jumpmaster software designed to assist in amphibious and airborne operations.
The watch uses a matte black finish and it features a curved lens with a green backlight. The green backlight is used to prevent flare out when the user is wearing night vision devices. The glass is scratch resistant curved mineral glass designed to reduce hotspots from sun reflection. The watch face can also be switched to native mode for low light conditions.
Garmin says that the watch is good for up to 50 hours in UltraTrac mode, 16 hours in full GPS mode, and five weeks in watch mode per charge. Standard watch functions include alarms, tones, vibration alert, timer, stopwatch, and world clock. The watch also supports multiple time zones, military time, and zulu time at once. The GPS functionality has the ability to create routes, and record up to 1000 waypoints. It also has a breadcrumb feature making it easy to find your way back from wild. The watch will be available this fall for $449.99.
SOURCE: Garmin