Garmin nuvi 1690 features AT&T connectivity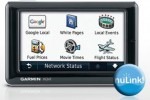 We have talked a bit about the sleek Garmin nuvi 1690 back in August. Garmin has offered up more details on the PND today, and the device sound pretty cool.
AT&T will be the provider of the connectivity for the 1690 PND. Said connectivity will allow users of the device to access Google Local search information. The local search will provide details like gas prices, traffic, weather, movie listings, flight status, and more. Garmin also integrates its Ciao service into the PND as well.
Ciao is Garmin's attempt at location-based social networking connecting multiple networks into a single portal for users. The U.S. version of the 1690 will include two years of the Garmin nuLink service that provides the features I mention. After the two years is up the service costs $5 per month. The 1690 PND will sell for $499.99 and will ship in Q4.