Garmin Launches Vívofit Jr. 2 Star Wars Activity Tracker For Kids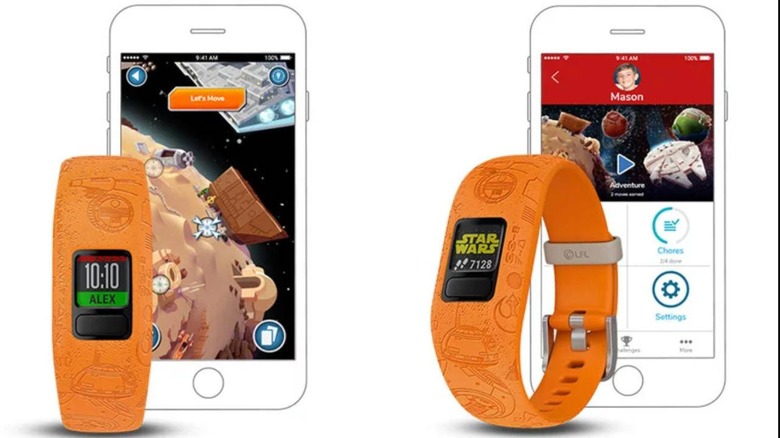 Garmin has launched a new version of its vívofit jr. 2 fitness tracker for kids, one featuring a Star Wars theme. The new product packs a themed band with embedded Star Wars imagery, as well as a companion app that brings experiences inspired by the franchise. Kids will be able to unlock new adventures and get help with Star Wars characters, motivating them to get enough activity during the day.
The vívofit jr. 2 is an activity band designed specifically for children. Rather than sporting a smartwatch-like design, the vívofit jr. 2 is primarily just a band with hidden technology; there's a tiny 0.43in x 0.43in display that shows the time of day and the kid's name.
The device is water-resistant and can run up to one year on a user-replaceable battery, plus it comes with adjustable and stretchy band options. The device has enough onboard memory to store up to four weeks of activity data, which needs to be synced with the related companion app. The band's watch includes basic functions like doubling as an alarm clock and stopwatch, and it's joined by an accelerometer.
The wearable keeps track of the user's activity, counting the number of steps taken and a 'Move Bar' that shows up on the device's screen after the user has been inactive for a while. There's also a sleep monitoring function that monitors movements during sleep.
Garmin has 'gamified' activity to motivate kids to keep moving. The tracker comes with the ability to reward kids with coins and issue them new step challenges, plus there are Toe-to-Toe challenges, reminder and audible alerts, task timers for durations from 2 to 30 minutes, a 60-minute activity goal, and chore-tracking abilities.
As the video above shows, the new Star Wars version adds the franchise's iconic characters into the mix, including Kylo Ren and Rey. Getting enough activity in a day unlocks Star Wars-themed adventures, games, and other content. The wearable is available from Garmin now for $69.99 USD.