Garmin Forerunner 935 smartwatch helps athletes train smarter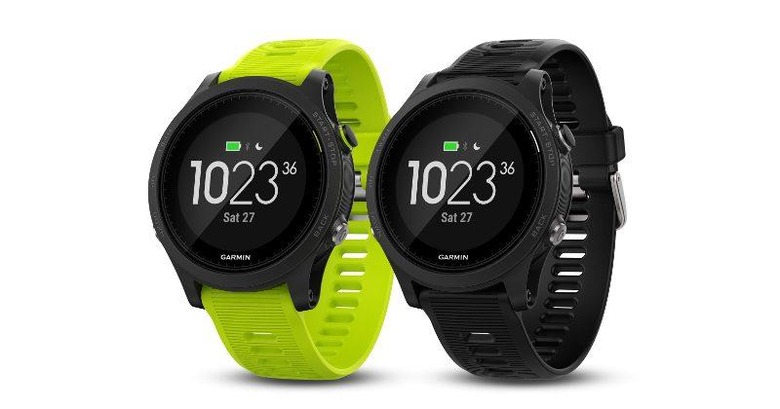 The mobile world might be awash with news about the Galaxy S8 and its little friends, but some companies still seem to have a smartwatch hangover from Baselworld last week. Coming late to the party is Garmin, which, contrary to the trend of recent smarwatch announcements, isn't coming out with an Android Wear 2.0 wearable. Instead, the Forerunner 935 is more like a superpowered fitness tracker with a watch face that has one specific objective: to help athletes, especially runners, train better.
The Forerunner 935 is no general purpose smartwatch. At its very core and all throughout its design, the wearable is a fitness tracker whose purpose revolves around monitoring and then analyzing the user's status and performance in order to give the best training advice available.
To do so, it has a truckload of sensors, both built-in and attached, that covers the variety of activities and body functions. More than just the usual steps counting, the Forerunner 935 can keep track of your cadence, stride length and more via a Running Dynamics Pod clip. 24/7 heart rate monitoring is provided by Elevate, while more precise location, including elevation, is measured by a combination of altimeter, barometer, and compass.
Of course, all that data is useless unless it is transformed into actionable information. The Garmin Forerunner 935, via Firstbeat, can take current data and compare it with past records in order to help athletes see better whether they are peaking or overreaching. Training tracks, reviews, and suggestions also help them push their limits when needed. And when the watch is connected to a smartphone, all that data is uploaded to Garmin Connect automatically.
That said, the Forerunner 935 is also a smartwatch and you will be able to change watch faces and install apps. While the app selection is not as large as, say, Android Wear, you still get useful ones like Uber ETA and AccuWeather MinuteCast. And if Garmin's built-in training apps aren't enough, you can also download other health-centric apps to augment your experience.
The Garmin Forerunner 935 does cost more than your average smartwatch, standing at $499.99 for a regular model and $649.99 for a bundle that includes a black watch face with force yellow strap, HRM-Tri, HRM-Swim, Quick Release Kit and additional strap in black. That said, unlike your average smartwatch, the Forerunner promises to give you a personal trainer on your wrist, always ready to give you advice when and where you need it.