Garmin Forerunner 10 GPS watch keeps it simple with smart functionality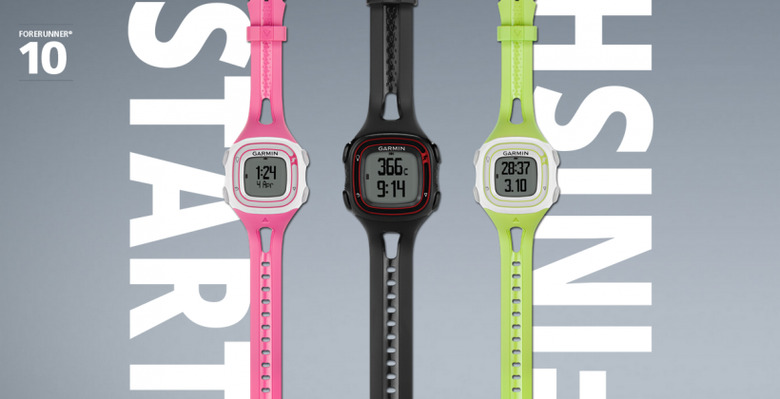 A brand new Garmin GPS watch has been revealed this week in a series called Forerunner 10. This watch is able to provide its wearer with information on how far they've run and how fast they've run and brings on the ability to identify the wearer's personal records as well. This device is a watch that's made to be the company's lightest and most comfortable unit yet, made with accuracy and reliability in mind for Garmin's most solid and simple wrist-based device ever.
With the Forerunner 10, you'll be able to select between three lovely wristband colors, and you'll be able to work with the unit with the press of a single button. You'll be able to customize your settings if you wish, but just tapping once and heading out the door is an option you'll have right out of the box. Between runs, users are able to see previous runs, check Auto Pause and Auto Lap settings and change them up, and set an alarm.
Users can also edit their personal profile on the watch, with settings of all kinds available to help you show pace, distance, calories, and more displayed when you want them where you want them. While it is time and distance that you'll be getting first and foremost here with the Forerunner 10, you'll also be able to work with more advanced functions like Virtual Pacer. With Virtual Pacer, you'll be able to compare your current pace with a target pace – you've also got a run/walk feature for those of you who include slower paces here and there along your daily run.
This Garmin running watch is the lightest made by the manufacturer and provides users with a water-resistant gadget up to 50m. This watch lasts up to 5 hours in "training mode" and up to five weeks in "power-save mode", and is made to be able to work as a day-to-day timepiece as much as it is made to work for runs alone. This device connects with GarminConnect.com for uploading and saving previous run information, and sharing with friends and family is of course an option as well.
Your Forerunner 10 connects to your PC with a USB cord and is able to charge up at the same time as you're uploading information to your computer and eventually to the web. This device will be popping up for a suggested retail price of $129.99 and is part of Garmin's ever-growing fitness segment which, as they say, "focuses on developing technologies and innovations to enhance users' lives and promote healthy and active lifestyles." This watch will be available "this fall" at your local running shop.
[via Garmin]