Garmin Fenix 5 Plus gives Apple Watch some do-it-all competition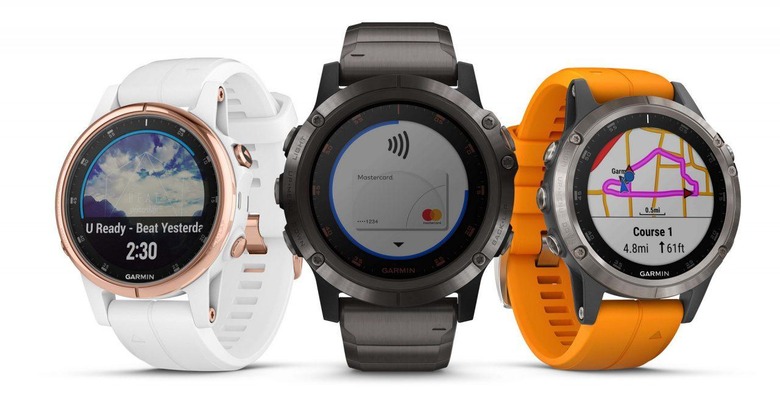 Last week, Garmin made a round of updates to its Vivoactive 3 fitness tracker, and today, it's taking a pass at the Vivoactive's big brother. The Fenix 5 series is the next in line to get some updates, with Garmin today announcing three new watches that will comprise the Fenix 5 Plus line. The watches boast some significant upgrades over their predecessors, but be prepared to shell out a lot of cash if you want to own one.
For starters, all three watches in the Fenix 5 Plus family will offer Garmin Pay and onboard storage for music, which are two of the marquee features of the recently refreshed Vivoactive 3. Garmin seems to be rotating through its product lineup to update its watches with onboard storage, and with each of the three Fenix 5 Plus watches – the Fenix 5S Plus, Fenix 5 Plus, and Fenix 5X Plus – you can store up to 500 songs by either downloading them through services like iHeartRadio and Deezer or uploading them directly from your PC.
All three watches also feature built-in map data that can help you track your walks, hikes, or climbs. Garmin's Trendline is making an appearance here, allowing you to enter a distance you would like to run and ride or then creating a round-trip route based on data from other users.
Speaking of climbing, the Fenix 5X Plus comes packing some extra hardware that the other two do not: a wrist-based pulse oximeter. This will allow you to measure your blood oxygen levels, and while most owners probably won't have much reason to actually use that, it can certainly come in handy when you're making a big climb. Of course, each watch also comes equipped with the standard suite of fitness tracking apps we've come to expect from these health-focused smartwatches, meaning that oximeter is just icing on the cake.
If you're looking for a watch that boasts a big display, the 5S Plus is probably the one for you, as its 1.2-inch display is 20% bigger than the original 5S. You'll even have satellite navigation features through Galileo, which can help you figure out where you are even GPS is spotty. In short, these watches attempt to do a little bit of everything, despite some features that may be targeted at specific niches.
Of course, if you want a smartwatch that does it all, you're going to need to put up some serious cash. Specific pricing hasn't be announced yet, but Garmin has said that pricing will start at $699.99 and max out at $1,149.99. We'll see all three Fenix 5 Plus watches launch in Q2 2018.