Garmin debuts BirdsEye Satellite and Aerial Imagery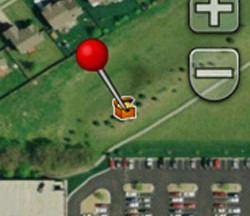 GPS devices are good and bad at times. They are a great way to get where you are going without having to use a map or stop and ask directions. However, some users are too trusting and will literally follow a GPS device to the ends of the Earth. Garmin is one of the biggest names in GPS and has announced its new BirdsEye satellite and aerial imagery.
The imagery is raster-based and compiled using real aerial photos and images scanned, geo-referenced, and overlaid onto the GPS receiver display. Garmin claims that the images are some of the most detailed available and have a 0.5 meter per pixel resolution in many areas of the country.
The images can be zoomed in at every zoom level from 20 miles to 20 feet. Users can also overlay vector maps to get a better idea of terrain contours and POIs. The imagery is provided by DigitalGlobe and is compatible with Garmin Oregon, Dakota, and Colorado outdoor navigators. The imagery is a subscription service at $29.99 per year.