Garmin Dash Cam Tandem records from all angles as you drive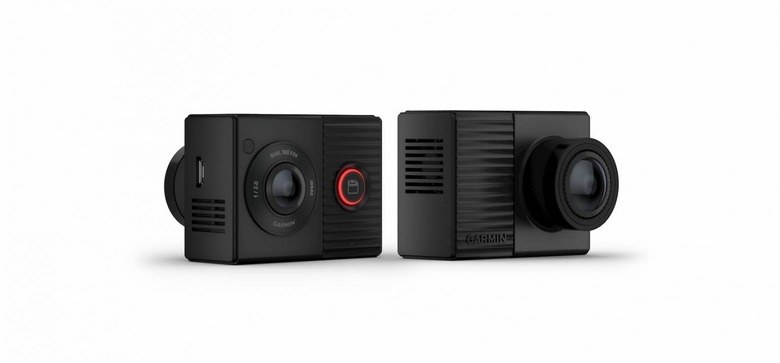 Dash cams are nothing new, but in the age of ride sharing, drivers may need to record more than just the road in front of them. Garmin today introduced a new dash cam that does just that, recording both the road and inside the cabin for a 360-degree view of what's going on. Dubbed the Garmin Dash Cam Tandem, this new device has lenses on the front and back that record simultaneously.
The camera on the front of the Tandem – which will be recording the road – boasts 1440p resolution, while the cabin-facing camera records in 720p. Both lenses can record at 30 frames per second, and the front-facing camera even supports HDR. While those specs clearly show that the front-facing camera is the more capable of the two, the interior camera does support Garmin's NightGlo tech, which allows it to record in night vision.
Both cameras offer a 180-degree field of view, so when used at the same time, they'll capture a 360-degree view of events. Most average customers may not have a whole lot of need for a interior facing camera, but those who drive for ride-sharing services like Uber and Lyft could certainly benefit from having it.
Even for those who don't frequently give rides to strangers, something like the Tandem could still come in handy. The camera comes with a parking surveillance mode which can be used to detect and record motion around the car when it's parked, potentially catching would-be thieves or carjackers in the act. As always, the Garmin app will allow users to manage their recordings, and the camera has an SD card slot for local storage.
Since the camera is made by Garmin, the fact that it has GPS capabilities should come as no surprise, and it also supports voice commands that will allow users to save videos and pictures as they're driving. The Dash Cam Tandem is available for purchase beginning today for $299.99 at Garmin's website, though the company says that orders won't start shipping out for 3 to 5 weeks.