Garmin-Asus A10 Android smartphone targets pedestrians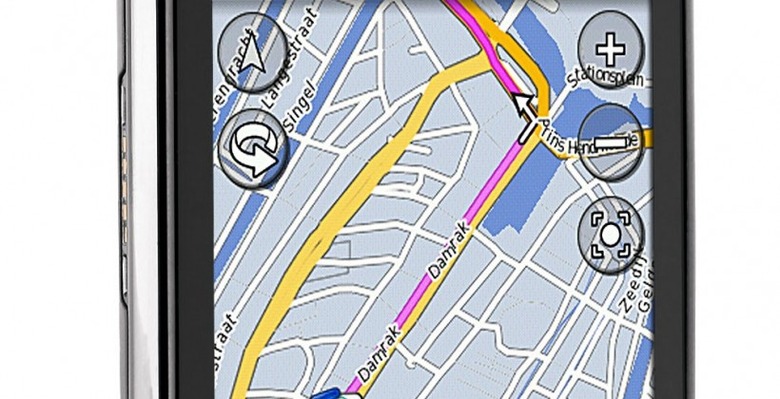 Garmin-Asus have announced their latest smartphone, the Garmin-Asus nuvifone A10, a new Android-based handset which is apparently optimized for pedestrian navigation.  The A10 has a 3.2-inch HVGA touchscreen supporting multitouch, 5-megapixel camera, GPS and comes preloaded with mapping data and – optionally – cityXplorer guides to public transit systems.
While the marketing for the A10 is being targeted at those traveling on foot, automobile users aren't left behind either.  In the box there's a powered audio mount for the A10, with a loudspeaker for more audible voice navigation prompts.  Meanwhile there's also the usual bevy of Android apps together with Microsoft Exchange support and access to the Android Market.
An accelerometer and 1500mAh battery round out the specs that Garmin-Asus are making public today; we still don't know how much the phone will actually cost.  Expect it to navigate onto the market in Europe and Asia-Pacific in mid-2010.
Update: Garmin-ASUS have announced that Dutch carrier KPN will be the first to offer the nuvifone A10, taking preorders in May with deliveries expected in July.
[via Android Community]
Press Release:
Garmin-Asus announces newest Android smartphone with Garmin navigation

A10 focuses on pedestrian-friendly features and navigation for Europe and Asia-Pacific

Cayman Islands/April 28, 2010/Business Wire — Garmin-Asus, a co-branded alliance between Garmin® Ltd. (NASDAQ: GRMN), and ASUSTeK® Computer Inc. (TAIEX: 2357), today announced the Garmin-Asus A10, a touchscreen smartphone running on the Android™ platform that is optimized for pedestrian navigation. The A10 is expected to be available in mid-2010 in Europe and Asia-Pacific.

For those times when walking is the best way to go, the A10 is ideal for city navigation because of its bright, 3.2-inch HVGA touch screen, electronic compass and long-lasting 1500mAh battery. As with other Garmin-Asus Android-powered devices, the A10's GPS capabilities are optimized to ensure that customers have the best location and navigation experience a smartphone can offer. Detailed maps are preloaded on the A10 so that users do not have to pay and wait for third party maps to download from a server, nor will they lose their turn-by-turn, voice-prompted navigation if they are out of cell phone coverage. In addition to pedestrian navigation, the A10 is ready for use in an automobile out-of-the-box, and it comes with a powered audio mount that magnifies the volume of the device's voice commands.

The A10 is a full-featured smartphone on the Android platform that integrates Google™ Mobile Services with one-click access to Google Maps™, Gmail™, YouTube™, calendar, contacts and Android Market™, where users can find more than 30,000 applications to expand and personalize their phone to fit their lifestyle. Android applications that include location-centric content are also able to utilize the A10's enhanced GPS capability.

To optimize a user's ability to stay in touch with family, friends and business contacts, the A10 is compatible with Microsoft Exchange server and will wirelessly synchronize contacts, calendar and enterprise email. Account setup is quick and easy, and in a few simple steps users will have their contacts, calendar and email ready to go.

Additional A10 smartphone features include a powerful WebKit browser with multi-touch, five mega-pixel camera including auto-focus capability that automatically geotags images with an exact location reference. The built-in accelerometer will quickly change the display so that screens may be viewed in portrait or landscape mode.

The A10 also supports optional cityXplorer™ maps, which makes it possible to plan and use routes that include public transit options such as bus, tramway, metro and suburban rail systems.

The Garmin-Asus A10 is expected to be available in mid-2010 in Europe and Asia-Pacific. Additional information about Garmin-Asus products is available at www.GarminAsus.com.

About Garmin-Asus

Garmin-Asus is a co-branded strategic alliance that enables Garmin Ltd. and ASUSTeK Computer Inc. to combine their complementary resources to develop world class LBS-centric mobile phones.

About Garmin Ltd.

The global leader in satellite navigation, Garmin Ltd. and its subsidiaries have designed, manufactured, marketed and sold navigation, communication and information devices and applications since 1989 – most of which are enabled by GPS technology. Garmin's products serve automotive, mobile, wireless, outdoor recreation, marine, aviation, and OEM applications. Garmin Ltd. is incorporated in the Cayman Islands, and its principal subsidiaries are located in the United States, Taiwan and the United Kingdom. For more information, visit Garmin's virtual pressroom at www.garmin.com/pressroomor contact the Media Relations department at 913-397-8200.

About ASUS

ASUS is a leading company in the new digital era, with a broad product portfolio that includes notebooks, netbooks, motherboards, graphics cards, displays, desktop PCs, servers, wireless solutions, mobile phones and networking devices. Driven by innovation and committed to quality, ASUS designs and manufactures products that perfectly meet the needs of today's home and office users. ASUS won 3,268 awards in 2009, and is widely credited with revolutionizing the PC industry with the Eee PC™. With a global staff of more than 10,000 and a world-class R&D design team, the company's revenue for 2009 was US$7.5 billion. ASUS ranks among BusinessWeek's InfoTech 100, and has been on the listing for 12 consecutive years.

ASUS is a registered trademark of ASUSTeK Computer Inc. Garmin is a registered trademark, and cityXplorer is a trademark of Garmin Ltd. or its subsidiaries.

Google, Google Maps, Gmail, YouTube, Android and Android Market are trademarks of Google, Inc.

All other brands, product names, company names, trademarks and service marks are the properties of their respective owners. All rights reserved.