Gamestop rumored to stop accepting Xbox games Feb. 9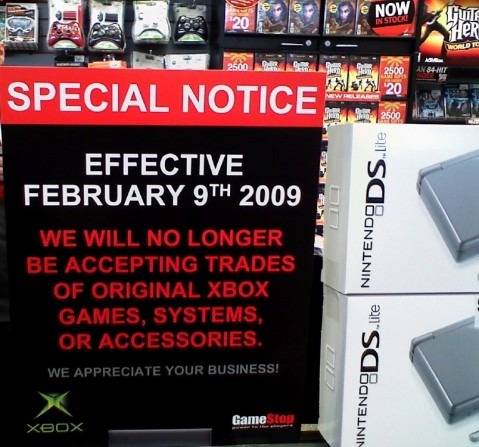 For a long time now, Gamestop has accepted all sorts of games for trading. So, not only could you purchase brand new games, but you could also bring in your old games you no longer played and trade them in for another used or new title. But if you're looking to unload your original Xbox games, you had better think again.
Apparently, there's a rumor going around that Gamestop will no longer accept Xbox games for trade-ins starting on February 9th. If this turns out to be true, it is very much a signal of the beginning of the end of the original Xbox. It had ceased to be relevant quite awhile ago now, but still, it's a sad day for original Xbox fans.
This news comes from a tipster that says the latest Gamestop marketing kit features a sign that relays the sad news. Nothing's official yet, but I guess we'll know soon enough. Just be safe though, if you have some old Xbox games lying around the house and don't plan on playing them anytime soon, you might want to hurry them over to Gamestop while they're still accepted!