GameStop announces Madden NFL 13 pre-order bonuses and exclusives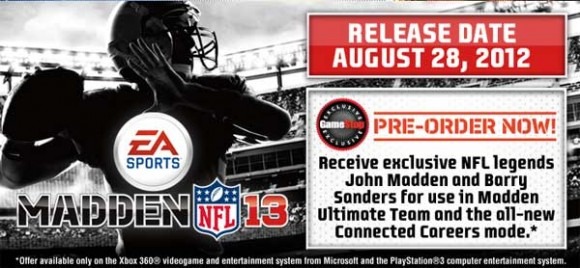 There are legions of gamers all around the country counting the days until August 28, when EA's Madden NFL 13 launches. GameStop has announced that Madden 13 is up for pre-order, and the company is talking about the pre-order bonuses and free launch exclusives you can get. If you're a huge fan of the franchise, you'll definitely want to pre-order at GameStop because you get two very nice exclusives.
Gamers who pre-order via GameStop will get access to Barry Sanders and John Madden himself in the Madden Ultimate Team and the new Connected Careers modes. Another bonus for pre-ordering with GameStop if you are a PowerUp Rewards member, you get access to play Calvin Johnson Jr in Madden Ultimate Team mode.
GameStop is also hosting Madden Mondays, which is a video series where developers of the game will be answering questions for the GameStop community. The developers will also show game play footage seen for the first time. Madden Mondays will begin July 16 and run through August 27. The video series will be available on the GameStop Facebook page.