Gamer Supreme 928i soon to be available through NewEgg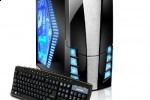 We may receive a commission on purchases made from links.
Hardcore gamers out there might be interested to know that the Gamer Supreme 928i from iBUYPOWER will soon be available through NewEgg exclusively for $1,299. The rig is positioned for gamers who need the performance, and have a bit of spending money. The specs are pretty nice, so make sure you check those out below.
I don't know about you, but most gamers I know usually build their rigs. However, the issues and hassle of doing so are a pretty good deterrent. The Gamer Supreme 928i offers gamers the latest Core i7 processors, and some powerful graphics cards. The 928i was able to achieve 60 frames-per-second at a resolution of 1280x1024 while playing the system intensive World in Conflict on the Very High setting, using the game's built-in benchmark mode. That's not too shabby.
The specifications are as follows:
CPU Intel Core i7 920 2.66GHz
Motherboard Intel X58
Memory 6GB (2GB x3) Triple-Channel DDR3-1333
Total Memory Slots: 6
Available: 3
Max Capacity: 24GB
GPU NVIDIA GeForce GTX-285 1GB
HDD 1TB Serial-ATA-II
Optical Drive 22X DL DVD+/-RW
LAN 10/100/1000 Mbps
Case PSI SILVER ARMORX Gaming Case + Blue color lighting
Power Supply 800W
MSRP/Retail $1,299
All that and a one year warranty with parts and labor. You can buy one here.