Game piracy costs Nintendo 45% of Euro DS game sales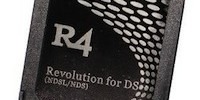 Nintendo are blaming rampant piracy for a 45-percent drop in European DS game sales, pointing to so-called "magicom" or "R4" cartridges – which bypass copy protection and allow downloaded game ROMs to be played on the handheld – as the primary cause.  The hacks have previously been a significant issue in Japan, but have more recently spread to Europe; Italy, Spain and France are particular hotspots, apparently.
Nintendo president Satoru Iwata has already said that the company intends to "enhance the ability to combat piracy in Europe through both legal and technological means", predominantly through developing consoles that won't play pirated titles, but it seems they'll also have to challenge attitudes toward game ownership.  "Everybody is using [magicom]," one gamer is quoted as saying, "and I don't feel like I am doing something particularly wrong."
[via Kotaku]