Game Gun DIY motion-tracking FPS controller [Video]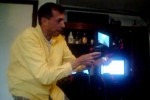 This enthusiastic man is holding what could, with a little more R&D and a big marketing budget, be the next big peripheral in first-person shooters.  The handiwork of "The Redneck Techie", the Game Gun is a modified keyboard, stuffed into a gun peripheral, with motion-sensitive tracking and an LCD display mounted on top. 
Video demo after the cut
That means you can look around and move through the game by twisting the gun around, seeing exactly what's happening on the integrated display.  A Gyration motion-sensitive mouse is used to track movement, and the latest prototype is wireless thanks to a tethered battery pack.
The next prototype, meanwhile, promises to be even more impressive.  Rather than use the compact LCD display, three pico-projectors will be mounted on the end of the gun, allowing for a super-widescreen picture on your nearest wall.  Best of all, since this is all built with off-the-shelf parts, there are no game-specific drivers needed; any FPS will happily play with the Game Gun.
Wired Game Gun:
Wireless Game Gun:
[via CrunchGear]