Galaxy TabPro S2 Windows 10 tablet said to be in the works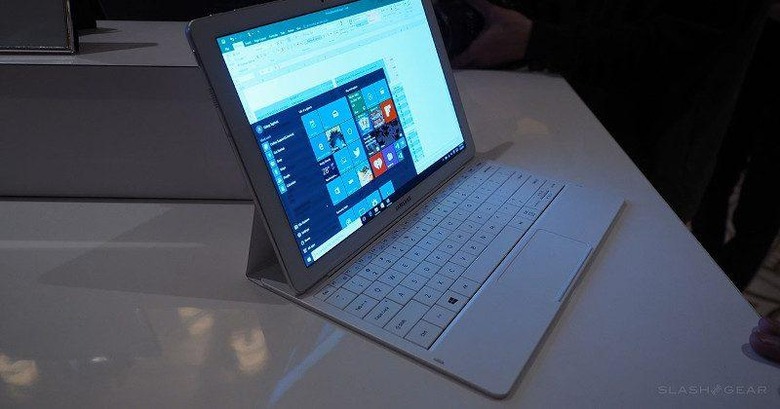 When it comes to tablets, Samsung is more known for putting out Android slates more than anything. But early this year, it challenged that perception by unveiling the, perhaps poorly-named, Galaxy TabPro S. Despite the "Galaxy" in the name, it was unabashedly a Windows 10 tablet, one that aimed to rival not just the Apple iPad Pro but even Microsoft's own Surface Pro 4. Receiving a moderate amount of success, word on the rumor mill is that Samsung is already working on a successor named, what else, the Galaxy TabPro S2. Yes, still a "Galaxy".
Samsung dared to challenge both Microsoft on one side and Apple on the other with the Galaxy TabPro S. It was more stylish and more portable than the Surface Pro 4 but was fanless like the 12.9-inch iPad Pro, as it ran on an Intel Core M processor. It even tried to rival the two in absurdity of price. That said, the Galaxy TabPro S lacked one key feature that defined both Microsoft's and Apple's giant tablets: a pressure-sensitive stylus.
The rumors don't exactly say whether the TabPro S2 will add that accessory. In fact, it doesn't say much about the next tablet other than the fact that it exists. Or rather, "they" exist. There are four models expected for the TabPro S2, the SM-W728, W727, W723, and W720, though the differences between those four are still unknown.
The difference between the TabPro S and TabPro S2 is also a bit vague, other than an upgraded Intel Core M processor. It seems that Samsung will stick to its 12-inch 2160x1440 screen, which isn't exactly a bad thing. Hopefully, through some trick, it has made the tablet even lighter.
Considering what Samsung already has planned for IFA 2016, namely smartwatches and smart appliances, it might take a while before we see the Galaxy TabPro S2. Chances are high that we'll get to see it at CES next year, just as the first one did.
VIA: SamMobile