Galaxy Tab S5e Has A Wi-Fi Problem Caused By Poor Design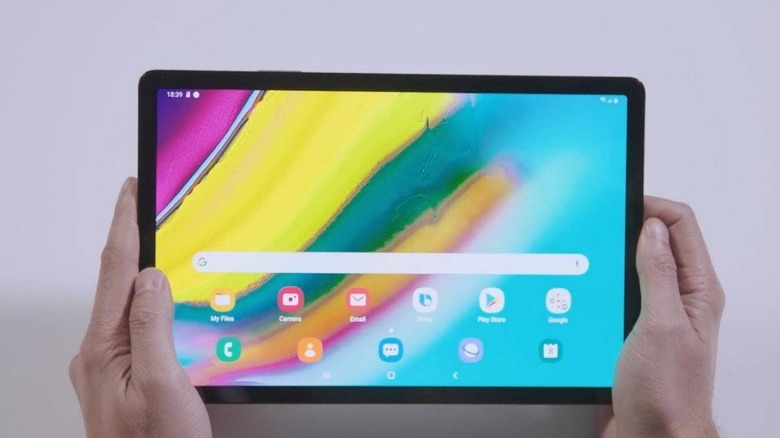 It's been nearly a decade since Apple received a lot of flak for its "you're holding it wrong" response to problems with the iPhone 4's reception. But while Apple has long gotten past that particular blunder, it seems that some manufacturers haven't learned enough from it. Samsung's latest high-end phones are thankfully safe from such a design flaw but its latest mid-range tablet isn't. So if you have a Galaxy Tab S5e and notice a drop in your Wi-Fi connection, just remember that you might be holding it wrong.
Launched just last February, the Galaxy Tab S5e isn't the 2019 flagship tablet some may have been expecting. The 10.5-inch slate does have things going for it, like its 2560x1600 Super AMOLED screen, 7,040 mAh battery, quad AKG speakers, and very slim design. Especially if you consider the $399 price tag.
You might, however, be paying dearly for it in terms of frustration. Some users have reported very noticeable drops in Wi-Fi strength when holding the tablet in horizontal (landscape orientation) in both hands. It turns out that is exactly the problem.
SamMobile's investigation, as well as reports by other users, point out that once your hand covers a particular corner of the tablet, it affects the Wi-Fi reception of the Galaxy Tab S5e. That's the corner to the left of the camera when holding the tablet upright or the lower left corner when the camera is to the left in landscape position. The receiver may be located in that area and your hand is affecting its reception, pretty much the same excuse Apple gave in 2010.
The workaround may be simple: just turn the tablet around so that the camera is to the right. That's, of course, not an excuse for any device in this day and age, no matter the price.