The Samsung Galaxy Fold and the Huawei Mate X take a slightly different solution to the same problem, that of offering smartphone users a larger screen while not forcing them to shove tablets in their pockets. While this type of foldable device does have some allure, there are other problems that can also be addressed by such flexible screens. The Motorola Razr 2019, for example, makes a regular phone even more compact. This Samsung patent also does the same, this time for a phone-like tablet instead.
That seems to be the idea behind this new Samsung patent that is like the Galaxy Fold and clamshell Galaxy Fold 2 combined. For lack of an actual official name, LetsGoDigital simply calls it the Galaxy Tab Fold. There are actually three designs included in the patent but the first one seems to be more likely to be turned into an actual commercial product.
Like the Galaxy Fold, it has a large screen that folds in the middle but, more like the still to be announced Galaxy Fold 2, it folds vertically like a clamshell. That allows it to shrink into a more portable size but don't mistake it for a phone, even if the patent describes it as a mobile telephone.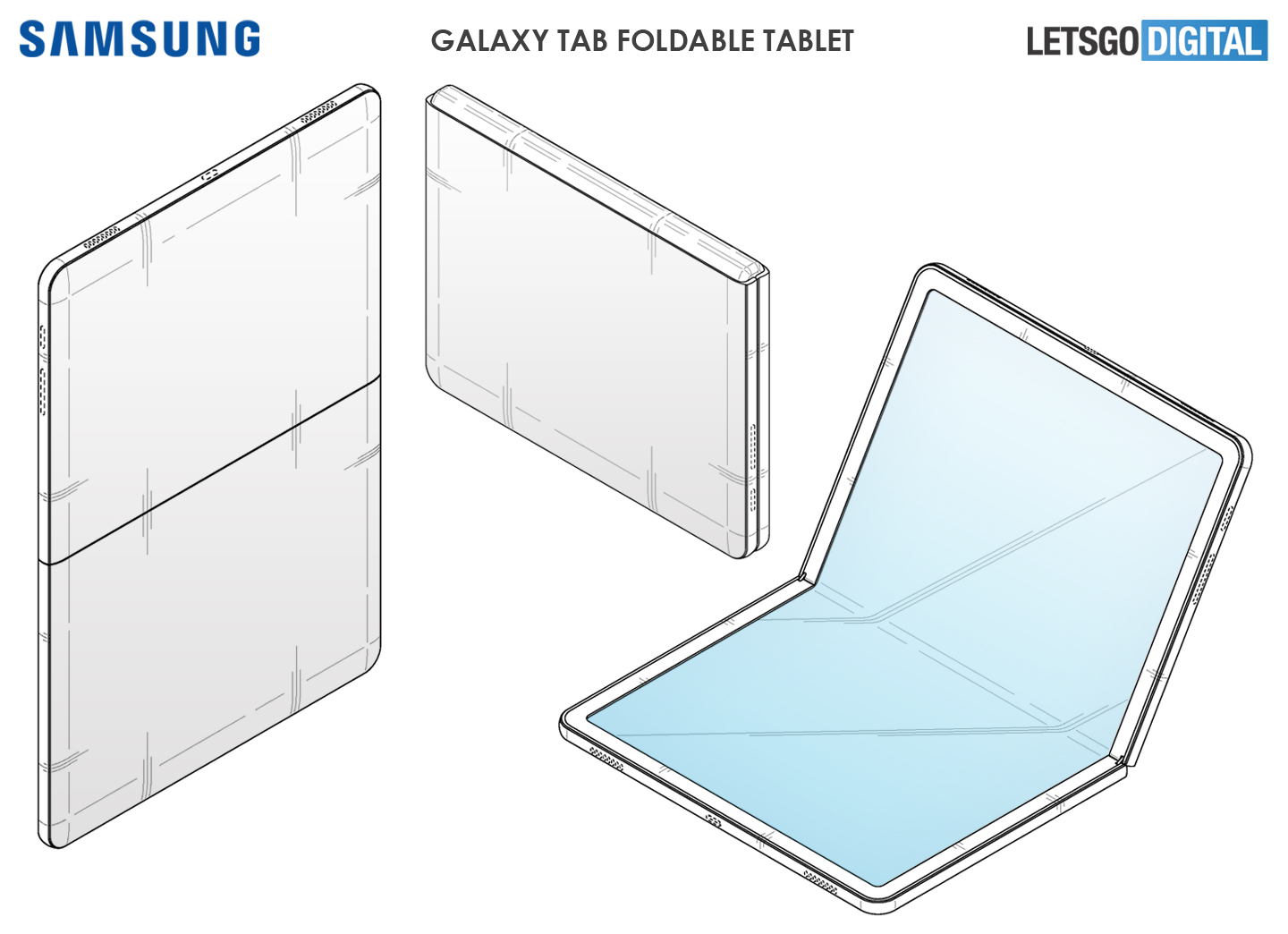 The patent diagrams show no sign of a second external screen, which means it can't simply be used when folded close. There doesn't seem to be any camera on the outside as well and no notch inside. The theory is that it could be one of the first to have that fabled under-display camera. Along with four speakers, the device depicted in the filing resembles a tablet more than a phone. Then again, Samsung has made tablets that do function like overgrown phones after all.
The new design simplifies things a bit, not just in the number of components but also in the narrative that Samsung will have to tell. It is simply a tablet that you can more easily put in a pocket or bag and can function as a phone too. Whether you will use that to replace your phone, however, is a different matter entirely.