Galaxy Tab 2 10.1 Finalized And Up For Pre-Order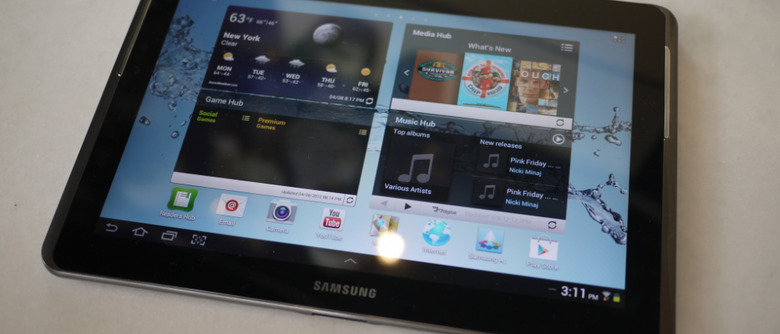 The next Samsung Galaxy Tab Android tablet is up for pre-order now, all 10.1-inches of it complete with a dual-core processor inside. This device is set for the top of the middle-market with a Texas Instruments OMAP4 dual-core processor inside and a 10.1-inch 1280x800 display up front. This tablet is set to bring you essentially the same experience you had on the Galaxy Tab 10.1 original, but with Ice Cream Sandwich this time as well as a few more enhancements that make this device a superstar for the middle tier.
We got our hands-on this device back at the announcement of its release here in the United States and can say this: it's extremely similar to the original. What you've got here instead of what we had back a year ago with the original 10.1 is some front-facing speakers and a bit different processor on the inside as well as a couple other enhancements. Notable for those who love to customize, this device has a microSD card slot for memory expansion and does indeed use Android 4.0 with the newest version of Samsung TouchWix UX on top for a sweet tablet experience.
The battery inside this mother is a massive 7,000 mAh and the camera on the back is a 3.0-megapixel shooter. You've got a built-in IR Blaster so you can work with your smartTV right out of the box and you've got 50GB of storage via Dropbox for free when you buy this tablet brand new. Sound like a good deal at $399 from Office Max? They've got the tablet on sale for pre-order right now!