Galaxy S8 Active Leak Shows Rugged Design, Final Specs
We've known for a while now that the Galaxy S8 Active, Samsung's well-known rugged version of its latest flagship, is quickly approaching, and as it does we continue to see leaks. While we've already had a few looks at the upcoming smartphone thanks to unofficial images posted online (like the one above), the latest includes an official render of the device, along with promotion materials listing its specs.
Diving into the new render image first, we see that the Galaxy S8 Active continues to add rugged, reinforcing design elements to the standard S8's chassis, making the device more durable against things like drops and harsh weather. With that the latest Active has slightly wider, protruding bezels, which help protect the "shatter-resistant" display, along with thick polymer bumpers at the four corners.
These bumpers have noticeable screws, and while they are likely just for looks, it might indicated that the bumpers are replaceable or customizable with accessories like cases. Along with the IP68 water and dust resistance of the standard S8, the S8 Active also features a MIL-STD-810G rating, which means it can withstand harsher weather conditions and survive mechanical shocks to a higher degree.
The S8 Active's other big improvement is the use of a 4,000 mAh battery, a significant increase over the regular S8's 3,000 mAh. The remaining key specs, however, remain faithfully similar, including the 5.8-inch 1440p display, Snapdragon 835 processor, 4GB of RAM, 64GB of storage, 12MP/8MP cameras on the rear and front, respectively, an iris scanner, a dedicated physical button for Bixby, and fast wireless charging.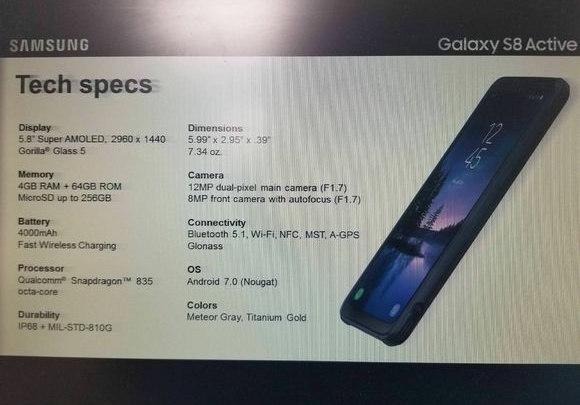 It seems that only two color options will be available on the S8 Active, Meteor Gray and Titanium Gold, and while there's no sign of AT&T's branding on the device, it's still likely to be exclusive to the carrier in the US. There's still no word on an official announcement date, but it's sure to be before the August 23rd debut of the Galaxy Note 8.
SOURCE: Weibo