Galaxy S7 dual-SIM accessory hacks your hardware (in a good way)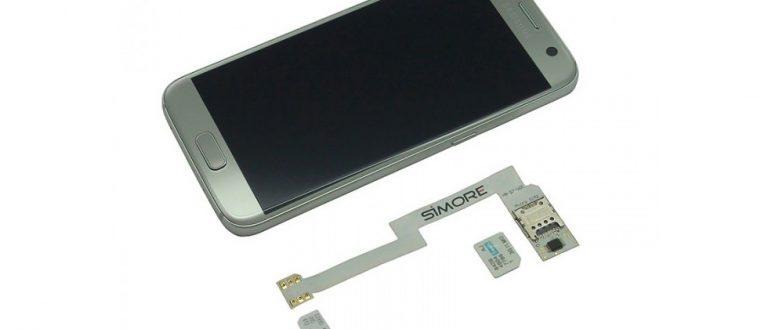 This week the folks at Simore have created an interesting accessory for the Samsung Galaxy S7 and Samsung Galaxy S7 Edge. This device uses a thin strip of wiring (basically the same as you'd find inside a phone normally) to connect both a SIM-card-sized faux-card to a dual-SIM card tray. One rests inside the SIM card tray of the Galaxy S7, the other rests outside the device entirely. NOTE: This device doesn't "HACK" hardware in any malicious sense – it just gives the device additional functionality that wouldn't otherwise be possible.
This device pre-supposes that the user will have a protective case for their Samsung Galaxy smartphone – and in fact makes such a note in their listing of the device in their own online shop. "You have to use a protective case compatible with the Galaxy S7 to maintain the dualSIM adapter," it says.
Also according to the folks at Simore, this adapter will require that users – especially those in the United States, of course, will need to unlock their phone to make two SIM cards from two different providers work. This should be obvious to users who regularly purchase devices from carriers who don't automatically sell their devices unlocked for carriers other than themselves.
This device uses standardized SIM-reading technology (quite basic at this level of the hardware) so it supports GSM, GPRS, EDGE, CDMA, UMTS, 3G, LTE, 4G, WCDMA, HSDPA networks, and all SIM cards in nano SIM and micro SIM format.
Because this accessory just turns one SIM card tray into two, users of the dual-SIM version of the Galaxy S7 can effectively turn that phone into a tri-SIM Galaxy S7. Neato!