Galaxy S7 Active vs. Galaxy S7 drop test: Who's tougher?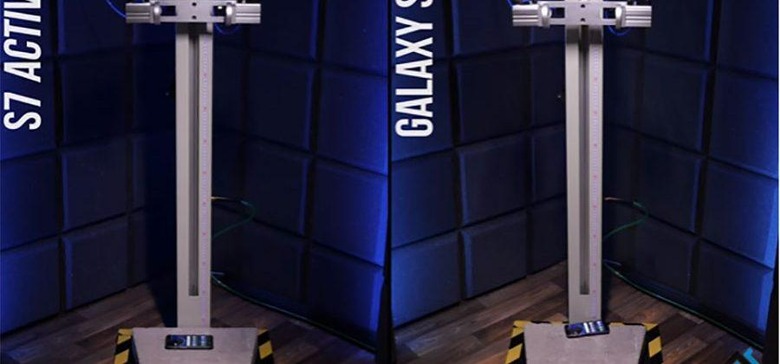 The normal Galaxy S7 smartphone is a rugged device able to survive water and dust. Since the smartphone has a glass back, it's not the most rugged of devices though. Earlier this month Samsung went official with an even more rugged smartphone called the Galaxy S7 Active. If you wondered just how much more rugged the S7 Active is than the normal S7, this drop test will show us.
Right off the bat the S7 and S7 Active are both raised to the same height and dropped on their backs onto a concrete block. Right away, the back of the normal S7 shatters while the back of the S7 Active with its polycarbonate shell comes away with only a few minor scrapes. The next test up was dropping both phones onto their bottom edges.
The results showed about the same amount of damage between the two phones with nothing more than a few scrapes. The next up was a drop onto the sides of both phones. Again, both devices came away with only scratches. However, the S7 Active fared better with minor scrapes only on the bumpers with the buttons left unscathed while the scratches were all along the sides of the standard S7.
The next test up was dropping the smartphones directly onto their screens. The standard S7 shattered and was left unusable after the test. The S7 Active survived being dropped directly onto its screen, making it the first device to survive that particular test according to PhoneBuff. The final test was to drop the S7 Active repeatedly onto the screen until it no longer works. The Galaxy S7 Active laughed at this test surviving 50 drops directly onto its face before the testers gave up with only a few scratches on the glass and full functionality. Get all the details on the Galaxy S7 Active here.