Galaxy S6 benchmarked, outpaces every other smartphone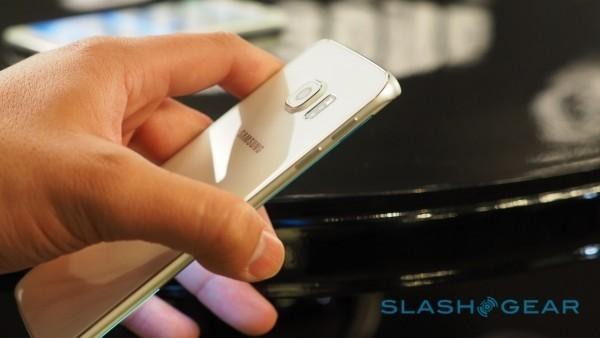 Ahead of the Samsung Galaxy S6 and S6 edge reveal, a lot of discussion was aimed at Samsung's choice of SoC for their new flagship. Stateside, we're familiar with Snapdragon SoC processors in our phones, so anything else seems strange on paper). Samsung was developing their new Exynos SoC, using an impressive new 14nm manufacturing process. Still, they weren't offering a Snapdragon alternative, so it seemed like a wholesale snubbing. If the latest benchmark results from Geekbench can be believed, we might know why.
The Exynos 7420 in the Galaxy S6, operating Android 5.0.2, scored a 4,547. It blew away the competition.
The HTC One M9 — another brand new phone announced at MC — scored a 3,959. That phone uses the Snapdragon 810 SoC, the chipset Samsung was rumored to have distanced itself from in favor of their Exynos SoC.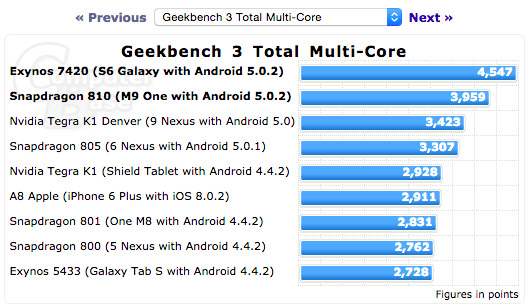 The graphics gobbling Tegra K1 didn't fare any better, coming in third with a 3,423 (on the Nexus 9). Fourth place went to the Nexus 6, running a Snapdragon 805. It should be noted neither Nexus device was running Android 5.0.2 in the testing.
Apple's iPhone 6, with their A8 SoC, scored 2,911.
Impressive? Sure. We will keep in mind that benchmarks can be 'cheated', so we won't put a whole lot of weight into these tests. Samsung also hasn't committed to this particular chipset being in the US version of the phone, though it seems likely.
Source: Computer Base
Via: BGR