Galaxy S5 production concerns follow factory fire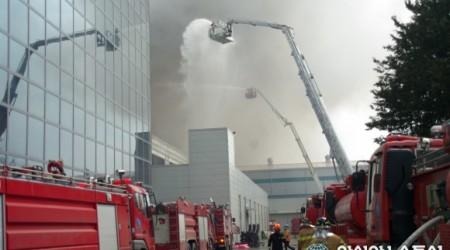 Korean news website Asia News Agency is reporting a fire at a South Korean factory largely responsible for manufacturing the printed circuit boards for Samsung's next upcoming flagship handset, the Galaxy S5. The fire was reportedly very large, and has raised concerns about the smartphone's production and near future.
The fire is said to have taken place at approximately 7AM local time yesterday, lasting about six hours and requiring the services of 300 firefighters to extinguish. The factory is said to be located in Anseong, which is only one of multiple factories Samsung uses for PCB production.
As such, Samsung has stated the fire will not result in a delayed launch of its Galaxy S5, but concerns still abound that production levels could be short, resulting in an order bottleneck of sorts following the handset's launch on April 11.
It doesn't seem the cause of the fire is precisely known, though it is being reported a third-floor fire involving the plating operation processing plant could have been the cause. It is estimated the fire has resulted in about $1 billion in damages, though exact statements are still forthcoming.
VIA: International Business Times
SOURCE: Asia News Agency