Galaxy S10 Info Leak: Release, Reveal Timing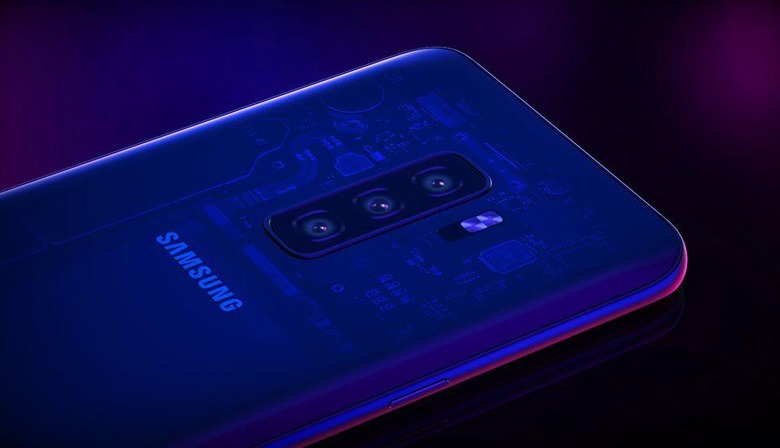 A Samsung Galaxy S10 leak this week showed us that while the Galaxy Note 9 will be the star of late 2018, next year will belong largely to the S. This isn't the 10th anniversary of the Galaxy S – not exactly – but it is a milestone year for Samsung. Bringing the device this far under a single brand calls for a celebration. Because of that, Samsung will appear to pull out all the stops when it comes to futuristic features.
It's 10 Time
The Samsung Galaxy S10 won't be afraid to go big with features the company's hesitated on in the recent past. That means augmented reality features with an array of new sensors. It means a semitransparent back glass panel. It means an in-display fingerprint scanner. NOTE: All of this we've heard from unofficial sources, of course – so for now you should certainly chalk it all up to leak-level business.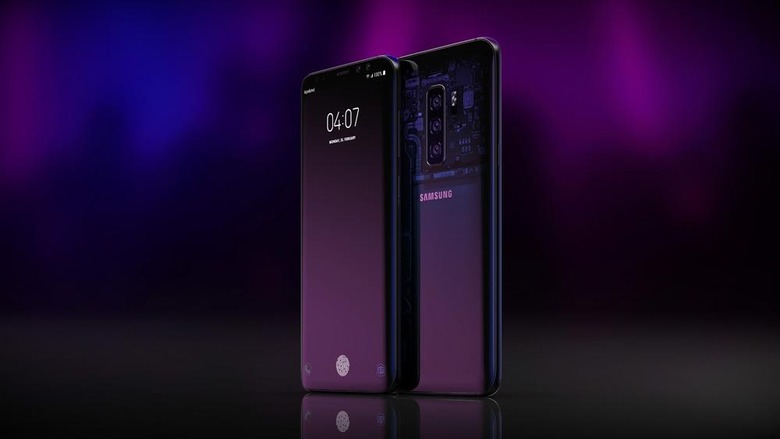 The images of the Galaxy S10 we're looking at today come from Mobil Helden who've teamed up with Phone Designer. Phone Designer is AKA Jonas Daehnert, a top-notch industrial designer and 3D modeler whose imagery we've utilized here on SlashGear in the recent past for other devices.
One major reason why Daehnert's conceptual realization rings true is presentation. He's not only rendered these devices with real-looking elements and lighting, he's put them in his own unique environment. He's gone the extra step picking a color theme for what could easily be advertisements for bus stations or billboards or magazine pages. He's made something very believable.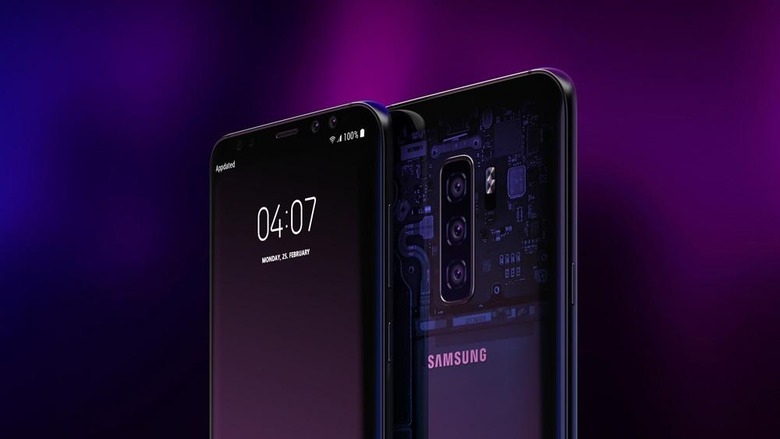 In the Galaxy S10 we're expecting more than just an upgrade over the Galaxy S9. We're expecting everything Samsung's bringing to the Galaxy Note 9, plus more. That means a full-screen display – minus the top area without a notch. You hear that, world? WITHOUT A NOTCH. Samsung, I swear to god, if you make a Galaxy S with a notch, I "won't at all be able to can't even."
The Samsung Galaxy S10 is rumored to come without a headphone jack, in favor of a USB-C port that'll inevitably need an array of dongles and such to function with standard headphones and other odd accessories. The Galaxy S10 Plus will inevitably be the bigger seller, then we'll see the mighty fall to its knees once again with the Galaxy Note 10, obviously.
Reveal and Release
The Samsung Galaxy S10 is almost certainly going to be revealed at a Samsung event that'll take place on the 24th of February, 2019. It'll be held in Barcelona just before Mobile World Congress 2019, we're to understand, and it'll be simulcast around the world. Expect some hands-on right as the event takes place, right here at SlashGear – we will BE there!
We're expecting the Samsung Galaxy S10 to be released in-store on April 19th, 2019. Pre-orders will take place either February 28th or March 7th, likely the former. Again, this information comes from sources familiar with the company's plans who wishes to remain anonymous. Have a peek at the timeline below for more clues on this next big-time release.