Galaxy S10 release date and tests tip Samsung's fastest upgrade ever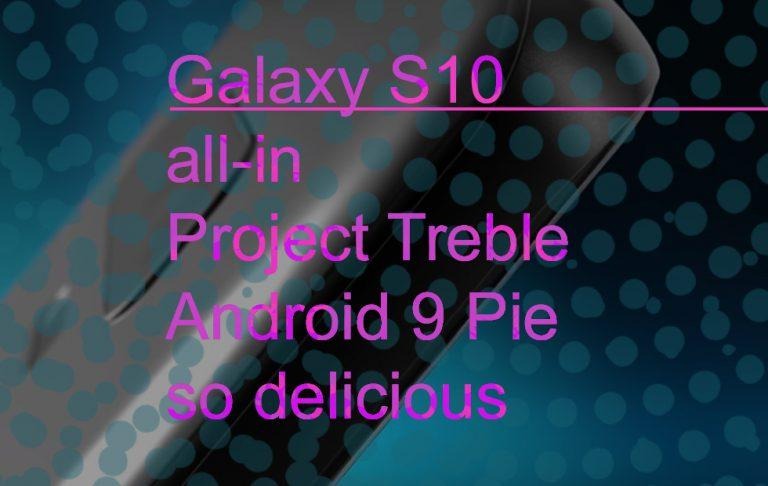 The Samsung Galaxy S10 had details leaked in a set of benchmark results this week, showing the device as speedier than any Galaxy before. This device was shown as speedy in its processing power, but also speedy in its adoption of the newest version of Android. If Samsung is indeed already working with Android 9 Pie and running 3rd-party benchmark tests on their smartphone this early before its release date, the Galaxy S10 might change Samsung forever.
Samsung is one of if not the most powerful Android smartphone manufacturer in the world. As such, they have some public leeway when it comes to pushing Android updates in a timely fashion. It would seem like it should be the opposite – what with so much public scrutiny on the line. But because Samsung's public image is so pervasive, they're able to basically release software updates whenever it suits them best.
If what we're looking at in benchmark results this week is true, Samsung might be about to change a tune. With the release of Android 8 Oreo, Google revealed a system called Project Treble. With this system, Android separates their upgrade process into two parts. One part is all-Google, the other part is separate – in this case it includes Samsung's customizations.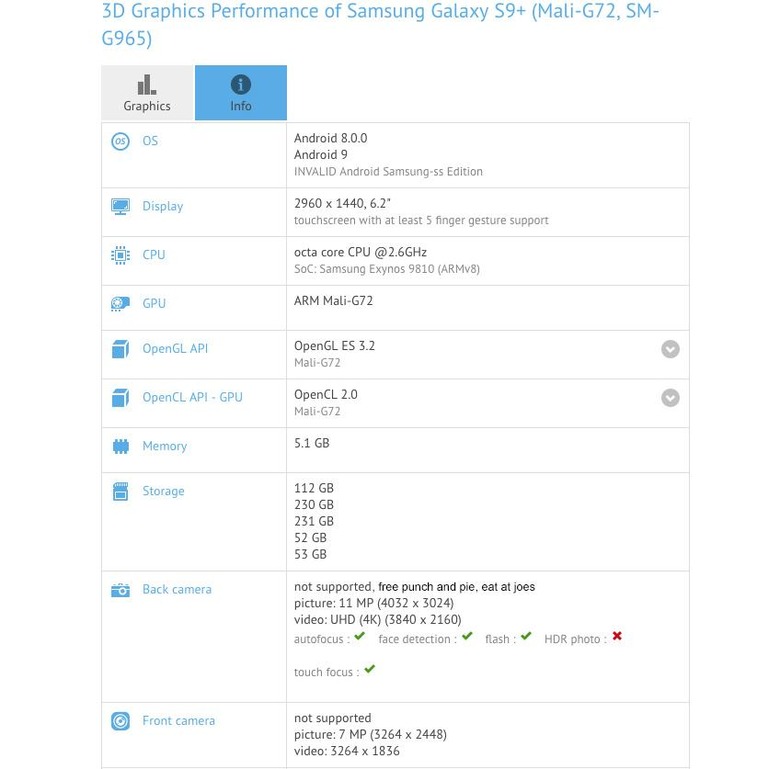 With this separation in place with Project Treble, Google can potentially send Android updates without much effort on Samsung's part. Because of this, Android updates should come super quickly. This is all only so long as Samsung includes Project Treble with whatever smartphone they're working on.
If these benchmarks are correct – and we have no major reason to believe they're not – Samsung may be working on a Galaxy S10 that has the following features. Note that these features are probably only PART of the picture. There's a whole lot more to this device than what we're seeing so far.
Samsung Galaxy S10 Specs (unofficial):
• Display: 6.2-inch OLED display with 2960 x 1440 pixels
• CPU: Samsung Exynos 9810 (ARMv8) octa-core, 2.6GHz
• GPU: ARM Mali-G72
• RAM: 5.1GB (that'd be basically 6GB when you read all about it on the final device's box)
• Storage Options: 112, 230, 231, 52, 53GB (that'd be basically 64, 128, 256GB in the final device build)
• Back Camera: picture (one of two or three cameras) 11MP (4032 x 3024px) with video UHD (4K) (3840 x 2160px)
• Front Camera: picture (one of probably two cameras) 7MP (3264 x 2448px) with video 3264 x 1836px
Release Date and Requirements
Remember, it's only IF Samsung sticks to the same sort of release schedule as they had last year that the testing and Android versions we're seeing in benchmark tests here make the Galaxy S10 a big deal for upgrade-hungry Android fans. Upgrades to software, updates on the regular, and Project Treble to make sure Samsung sticks with what Google's delivering whenever a new version of Android is available.
It's quite likely the Samsung Galaxy S10 is planned for a February 24th, 2019 reveal date. At that time we'll probably also get a glimpse of the Samsung Galaxy X, a foldable display-toting smartphone concept that'll come in its final form later in the year. If Samsung follows its traditional plans, the Samsung Galaxy S10 release date will sit somewhere around March 16th. Pre-order dates will probably land in at around March 2nd, 2019.
The Samsung Galaxy S10 will probably cost at least $720 while the Samsung Galaxy S10 Plus will probably cost at least $840. With the amount of cash these major smartphones have cost in the past VS changes over the past few years, it would not be a major shock to find the Galaxy S10 costing $100 or more over the Galaxy S9's starting prices – that'd mean at least $820 and $940 for the Galaxy S10 and S10 Plus – we'll see!