Galaxy S10 Lite manual confirms the new Samsung design language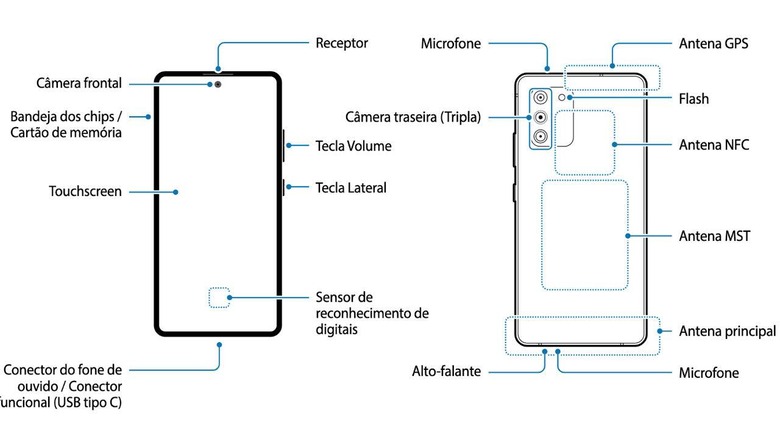 It's not every day that leaks and rumors are corroborated by companies themselves but every so often we are able to get some indirect confirmation thanks to the early appearance of official documentation online. That actually happens quite frequently when it comes to Samsung's smartphones whose manuals sometimes go up even before the device does. Such is now the case with the Galaxy S11 Lite that, together with other products and other leaks, seems to confirm what most early 2020 Samsung phones will look like.
The user manual spotted by SamMobile doesn't exactly say much, or at least nothing that is completely new or revolutionary. The diagrams provided in the document, however, do at least confirm that the leaks we've been seeing before are apparently on the mark when it comes to the new Samsung design language.
On the front, we spot the almost bezel-less screen, presumably a flat one, with a punch-hole camera right at the center. All buttons have been moved to the right side of the phone, leaving the microSD and SIM card tray on the left. The back shows three cameras and a flash that, despite being perfect for a 2x2 square, are housed in a rectangular bump.
This design pretty much conforms to what we've also seen about the Galaxy S11 itself, a design that officially debuted on the Galaxy A51 a few weeks back. It probably won't be a huge leap to presume that most if not all of Samsung's phones next year will have a uniform look, at least until the market tells Samsung to change.
Not much else can be gleaned from the manual but it confirms the presence of some standard features. There's the in-screen fingerprint scanner and MST antenna for Samsung Pay, for example. And despite the "Lite" moniker, this Galaxy S10 Lite will still be lacking a headphone jack.