Galaxy S10 Edge colors and release details spilled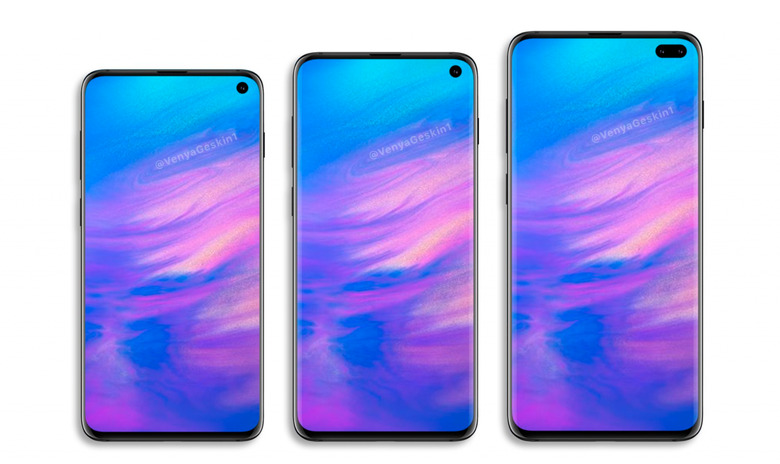 This week the folks at Samsung responsible for keeping accessories under wraps seem to have made a bit of a slip-up. At least that's what it appears like over at Mobile Fun (dot com) where a wide variety of Samsung Galaxy S10 Official Case names have been released. In the mix also are the names of all three of the first Samsung Galaxy S10 units. There's a Galaxy S10 Lite, a Galaxy S10 Plus, and a Galaxy S10... Edge. That's right – there is no Galaxy S10 without another word in its title!
It would seem that the next generation in Samsung Galaxy S10 units is going to do away with the whole "no simple answers" situation with smartphones. Each year the Galaxy S lineup had its no-name version as the sort of Milk Chocolate M&M's edition – the normal, original. But just like that Milk Chocolate flavor used to be called "Plain", so too has Samsung decided to give the next Galaxy S smartphone a name that seems a bit more tasty.
The smartphones that've leaked today include a wide variety of accessories with which they'll be outfitted. From Samsung comes the following smartphone cover names – one of each. We'll get to the crazy colors in a moment.
• LED Cover
• LED View Cover
• Silicone Cover
• Clear Cover
• Protective Standing Cover
• Leather Cover
• Clear View Cover
• Screen Protector – transparent – pre-installed on device
Yes indeed, the Galaxy S10 in all three iterations will have its own pre-installed protective transparent frontside. This is a new page that Samsung's about to turn, and one we're not at all sad about. Maybe they'll start including basic cases in the box next? One can dream!
The concept image above comes from the concept illustrator and mock-up man Venya Geskin.
Colors included in the accessories lineup include Black, White, Green, Berry Pink, Blue, Navy, White, Red, Yellow, Silver, and of course Transparent. The one accessory that exists for the Plus and the Edge that does not exist for the Lite is the following: "Clear Cover – Transparent." The Lite does, however, have several Clear View Covers – in Black, Green, White, and Yellow.
We're expecting that the Samsung special event at which these devices are revealed will take place on February 20th, 2019. After that, the Galaxy S10 Lite, Galaxy S10 Edge, and Galaxy S10 Plus will likely have a release date on or around March 8th, 2019. Pre-orders will probably start the same day as the reveal event – stay tuned!