Galaxy Note 9's new color (and 6 more details)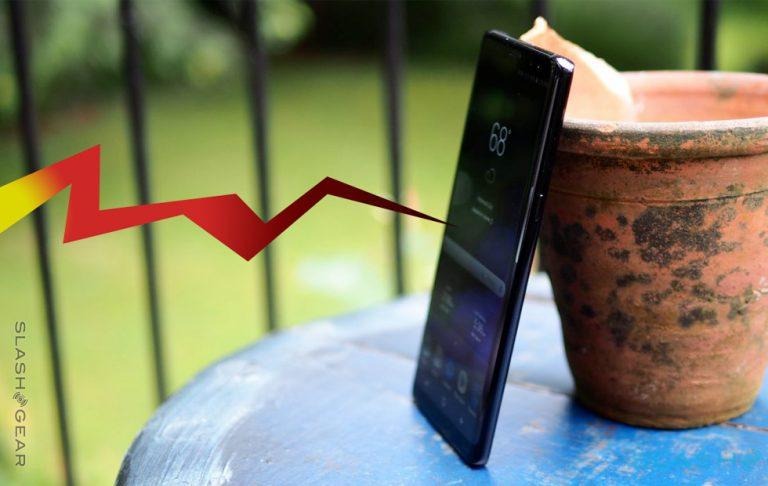 Rumor has it there's a cute new color coming with the Samsung Galaxy Note 9. The tip comes from a notoriously accurate leakster from across the sea: Ice Universe. There, Ice suggests in a list of 7 highlights for the Galaxy Note 9 that the crowned king of Samsung smartphones will be rocking a color that all the top-notch well-dressed Harajuku boys and girls won't be able to resist: Teddy Brown.
One would hope that someone in the case-making business would already be hard at work making a teddy bear case for this device. Teddy bear fur on the outside, bumpers on the inside, all cute, super cute, amazingly cute. Otherwise Teddy Brown might as well be considered Chewie. Which, come to think of it, might also be a pretty good idea.
The Ice Universe list of Samsung Galaxy Note 9 features to look out for this afternoon looks like this:
1. New S-Pen
2. Crown UX
3. Bixby 2.0
4. Under-screen optical fingerprint "exclusive program"
5. 3850mAh battery 18w fast charge
6. New color: Teddy Brown
7. Camera
One shouldn't be entirely shocked by these proposed features in the Galaxy Note 9, really. There's bound to be a camera, and it's bound to be at least as good as that of the camera delivered with the Samsung Galaxy S9 and/or Galaxy S9 Plus. It's also generally been the case in the past that the Galaxy Note 9 has a battery significantly larger than that of the Samsung Galaxy S9 – and once or twice bigger than the battery of the Note from the year before.
A new S-Pen – should also be obvious, though it'd be nice to get an S-Pen that has a feature that's mind-blowing. The last couple iterations haven't been anything to buy a new note over if you'd already had an old Note. Not just for the S-Pen, anyway.
ALSO: For those of you wondering, the following video depicts Teddy Brown. Probably not the Teddy Brown we're looking for, but Teddy Brown nonetheless.
A so-called "Bixby 2.0" is a weird ... thing to say. Bixby shouldn't have version numbers if it's aiming to take on the likes of Alexa. But such is the mobile world and its iterative nonsense. There's a very good chance the newest Galaxy Note 9 will have an under-display fingerprint sensor – that we're pretty confident about.
The whole "Crown UX" feature is almost certainly just a new name or a code-name for the unique user interface for this device. Rumor suggests this Galaxy Note 9 has a code-name "Crown" like it's the boss of the year. It's not a stretch to guess that it will be.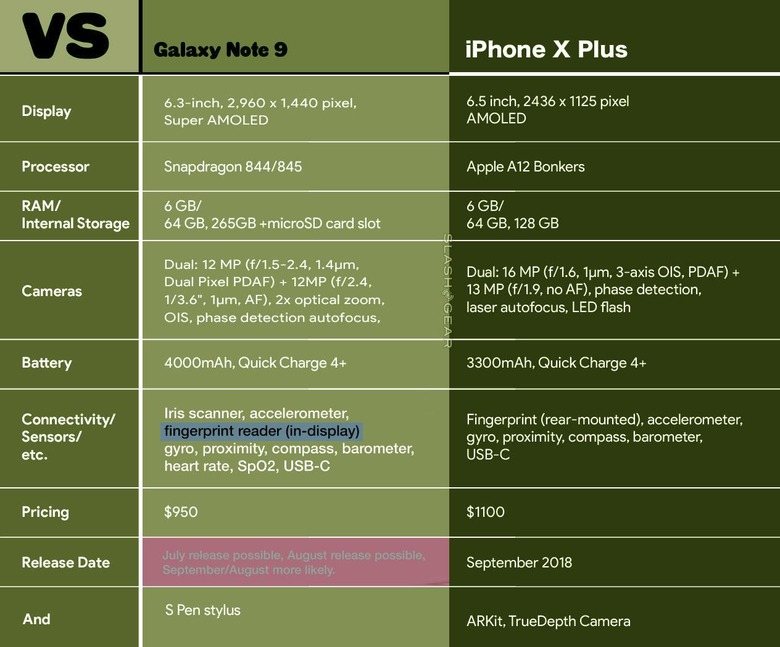 Above you'll see a list of specifications for the supposed Samsung Galaxy Note 9 and iPhone X Plus. Neither device has been revealed in full (or revealed at all, in Apple's case), so take every bit of information there with a grain of salt. All information we have here today is based on rumors, photo leaks, and anonymously-sourced info from people familiar with the subject. Until you see the real deal presented by Samsung, keep your leak-protectant helmets screwed on tight!