Galaxy Note 9 specs: massive leak found on a retail box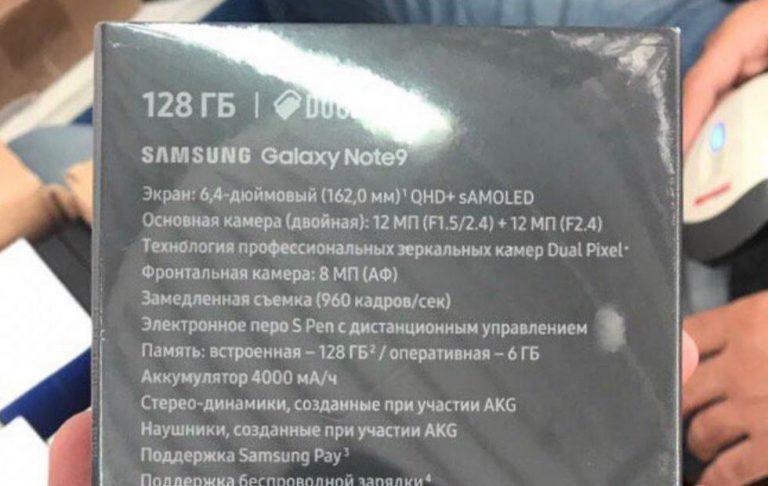 Had enough of Galaxy Note 9 rumors? The good news is that those will finally end on Thursday. The bad news is that that's when the real talk will start as well. The worse news is that there's still a lot of time to squeeze in some last-minute stuff before everything gets formally Unpacked. And with this latest bit to come from Russia, there is really no spec left unturned for what Samsung hopes will save it from a disappointing fiscal year.
Samsung definitely has problems keeping the Galaxy Note 9 under wraps. It even feels almost intentional, just to drive up the hype. For example, it "accidentally" included a photo of the phablet in a registration webpage and even uploading the official promo video a week early.
This, however, tops those as it practically reveals the spec sheet for the Galaxy Note 9. The photo of the backside of the retail box was taken from a Russian store and, naturally, had everything in Russian. SamMobile, thankfully, has a translation handy.
А вот и он. Пока корейцы готовятся к мировой презентации в Нью-Йорке, новенький Samsung Galaxy Note9 уже лежит в российских магазинах. Теперь известны все характеристики до анонса 👌 pic.twitter.com/Dj51ohBUxZ

— Дмитрий Рябинин (@dryab) August 3, 2018
There are practically no surprises here and most of what's been leaked so far has been confirmed. That includes the 4,000 mAh battery, which most will probably watch with caution. The Galaxy Note 9 will have the same dual cameras as the Galaxy S9+ as well, with a 12 megapixel dual aperture (f/1.5 – f/2.4) sensor paired with a 12 megapixel f/2.4 assistant. The box is for a 128 GB storage model, which is believed to be the base configuration for the phablet.
Samsung is putting a lot of pressure on the Galaxy Note 9, considering the disappointing sales of the Galaxy S9 and Galaxy S9+. Depending on how it fares, one of Samsung's flagship lines may not make it to 2019 and beyond.