Galaxy Note 8 PyeongChang 2018 edition connects the Winter Olympics
We may receive a commission on purchases made from links.
Once upon a time, smartphones came in black or white colors, and sometimes the greys in between. These days, mobile devices have all sorts of hues, some with kinda funny names ("Kinda Blue"). If you've wanted a very white premium phone, like, say, a Galaxy Note 8, you're pretty much out of luck. That is, unless you're participating in the 2018 Winter Olympics, where Samsung will be giving out limited edition models of the Galaxy Note 8 to celebrate the PyeonChang 2018 games and, of course, advertise its phone.
Fortunately, there is nothing that significantly sets this limited edition phone apart from what's already in the market. Unless, of course, you count the design and its rarity to be significant enough. In line with it being a winter event rather than the main Olympics, this Galaxy Note 8 features a shiny white glass back you won't find elsewhere.
Of course, color won't be enough to mark this as an Olympics phone. So this Galaxy Note 8 also has the five interlocked rings, all in gold, of the Olympics logo. There will also be apps and content, like themed wallpapers, to keep athletes and Olympics partners keep up to date and connected with the latest news and updates.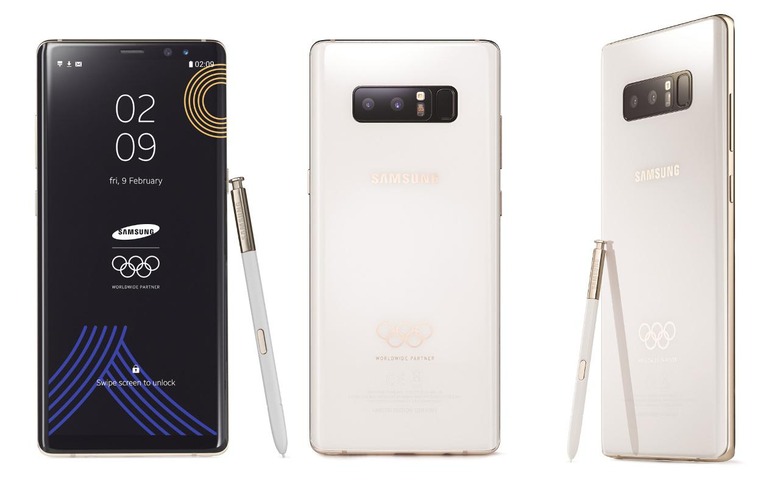 This is hardly the first time Samsung has made an exclusive Olympics-themed edition to give away to Olympians. It did the same for the 2016 Olympics in Rio de Janeiro in Brazil, that time with a Galaxy S7 edge. And you can bet it will do the same in 2020 in Tokyo.
Samsung boasts that 4,000 such PyeongChang 2018 limited edition Galaxy Note 8s will be given to both athletes as IOC and POCOG staff. In addition to advertising the brand and phone, Samsung is positioning the Galaxy Note 8 as the perfect communication device, whether for keeping in touch with teammates or taking selfies for families and friends. They won't, however, serve as potential incendiary devices to keep athletes warm and toasty during the frosty events.
SOURCE: Samsung