Galaxy Note 7 is back on Verizon, T-Mobile following soon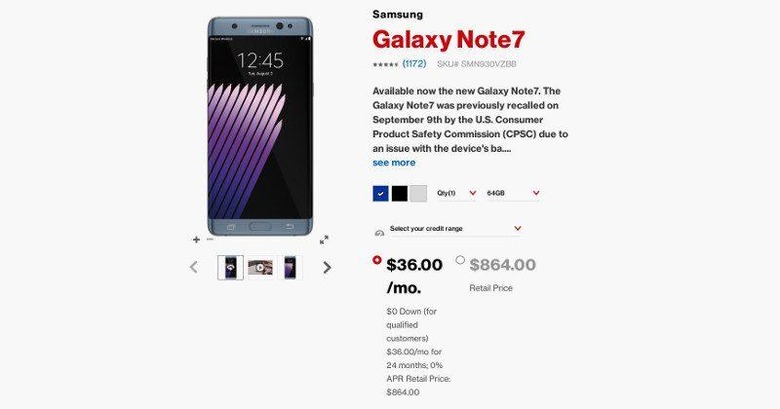 While we expect a bit more reports, maybe even more lawsuits, in the coming days, Samsung seems to be quite confident it has weathered the storm, enough to actually restart sales of the Galaxy Note 7 in the US. Or at least that seems to be the implication now that Verizon has put the controversial phablet back on stock on its website. And according to a third-party report, T-Mobile would be doing the same really soon as well, just in time for the promised September 21 date.
Ideally, Samsung would have waited for all defective Galaxy Note 7's to be taken off the street first, but considering how some owners refuse to voluntarily take their devices in for a replacement, that's probably never going to happen at all. Samsung has just revealed that 500,000 new models, with fixed batteries of course, are already available for its US exchange program. And it seems it has also replenished carrier's stocks as well.
On its web store, Verizon has put the Galaxy Note 7 back on sale. T-Mobile is reportedly close to doing the same. Curiously, some subscribers are a bit peeved that the carriers would be using the new stock to sell to new customers instead of prioritizing replacements. Whether carriers do also have units set aside for exchanges isn't known yet.
When or if you do get a new Galaxy Note 7, your first task would be to check that the device is indeed a new and fixed model. The easiest would be to use the IMEI check tool that Samsung provides on its website. Another would be to see if the battery icon is green instead of white, but that would require an updated firmware that Samsung just launched yesterday.
Defective Galaxy Note 7 units still remain at large and Samsung is making sure that owners are reminded of that constantly. The same firmware update will flash a warning message every time the device is restarted or plugged in for charging, which could be pretty annoying after a while.