Galaxy Note 7 could get hybrid UFS/microSD card slot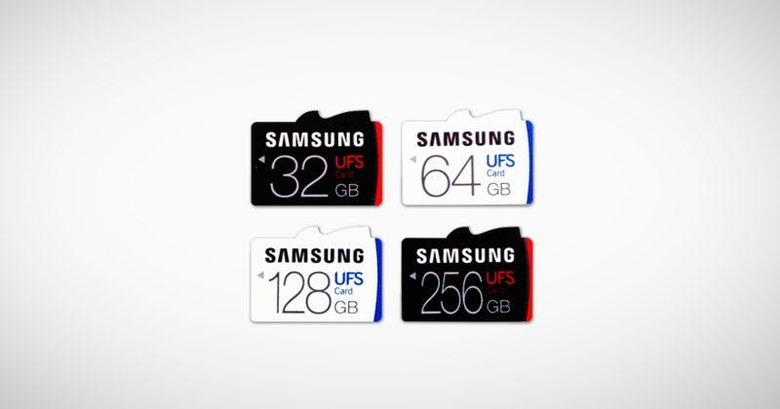 Just last week, Samsung revealed the world's first batch of removable memory cards sporting the new Universl Flash Storage (UFS) spec. Those cards, which had even had a 256 GB card among them, promised near SSD storage reading speeds and faster than microSD card writing speeds. The one fatal problem, though, was that UFS was incompatible with all current microSD card readers in the market. Not to worry, says Samsung, as it is developing a slot that can read both kinds of cards. Given the timing, it could even make its debut in the Galaxy Note 7.
It's, of course, a bit of a conjecture, but Samsung has this habit of revealing new technologies and products piece by piece before they make their public appearance in an up and coming smartphone. That was the case before with internal NAND storage, ISOCELL camera sensors, and more. As we are just a month away from the Galaxy Note 7's announcement, it's not far-fetched to see this come to pass as well.
Here's Samsung's word on the matter, given to Droid Life:
"The new UFS cards are not compatible with the current microSD card socket. However, we have developed a socket design that can support both UFS cards and microSD cards. We are working with different partners in the industry on this integration for next-generation devices."
The new UFS 1.0 Card Extension standard brings the advantages of UFS 2.0 storage to removable memory cards, in other words, to microSD sized cards. UFS advertises theoretical (sequential) reading speeds of 530 MB/s, which is on par with SATA SSD storage. Write speeds are naturally slower at 170 MB/s, but that is noted to still be signficantly faster than even the fastest microSD card in the market.
Of course, the fact that there is barely any device or slot that supports it will be a huge obstacle in the adoption of the technology in addition to being a totally new standard. It would seem that the Samsung Galaxy Note 7 would be the first beneficiary of this new product, as well as the new type of card slot. It is fortunate that Samsung decided to adopt a hybrid slot, as it would totally defeat the purpose of having a memory card slot that can only be used with a card that isn't widely available just yet.