Galaxy Note 5 Aug 12 date leaked, renders show sizes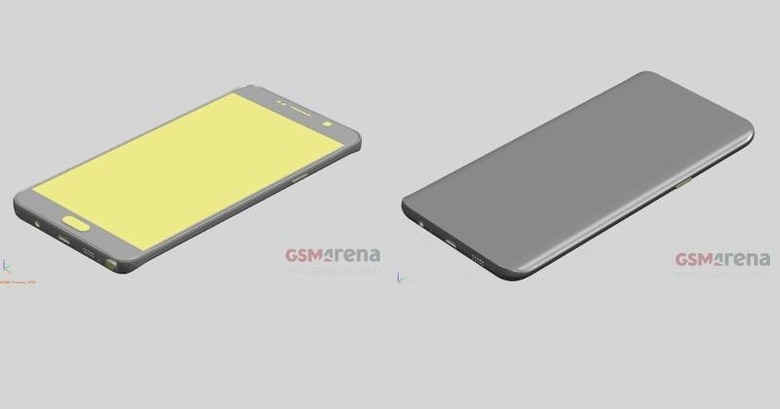 We almost have a complete picture of what the Samsung Galaxy Note 5 looks like from the inside. All that we're missing now is how it looks from the outside. While it's still a good month away from becoming reality, we can settle for the next best thing, at least for now. A set of renders of the schematic kind have been leaked and they bring with it two important details: the size and design of the Galaxy Note 5. In fact, they also bring the same info for the Galaxy S6 edge Plus.
Fans of Samsung's Note line might be both satisfied and disappointed at the same time with the OEM's Next Big Thing. In terms of overall design, the Galaxy Note 5 seems to closely resemble the Galaxy S6 and all that it entails. That means smooth curves and probably a glass back. That also means what might be a lack of removable battery or a micro SD card, the Galaxy S6's greatest sins.
Those hoping for a design similar to the Galaxy S6 edge will be disappointed. That, however, might be a feature reserved for the mythical Galaxy Note 5 Edge but these renders reveal no such device. The render also indicates that there is no USB Type-C to be found, only the older but more common micro USB port. As for the size, it is noted to be 153.3mm x 76.1mm x 7.9mm, which supports leaks of a 5.7-inch screen.
The Galaxy S6 edge has almost similar dimensions at 154.4mm x 75.8mm x 6.9mm. It is considerably slimmer, typical of an "S6 edge" device, but the rear camera also protrudes considerably, adding to the thickness. There doesn't seem to be anything new to be seen here, confirming hints that this is simply just a larger Galaxy S6 edge, with a Qualcomm Snapdragon 808 processor instead of a Samsung Exynos.
We might not have to wait that long to see some of these verified or debunked. Sources have put an exact date on the Galaxy Note 5's early launch. Samsung is said to unveil the phablet on August 12 with a launch in major markets as early as August 14. That's definitely out of character given Samsung's usual IFA flair and sources are indicating that this is to steer clear of the iPhone 6s. That said, those sources do only mention the Note, which may include the Galaxy Note 5 Edge. The Galaxy S6 edge Plus could still be unveiled later at IFA 2015.