Galaxy Note 10+ Star Wars: The Rise of Skywalker special edition revealed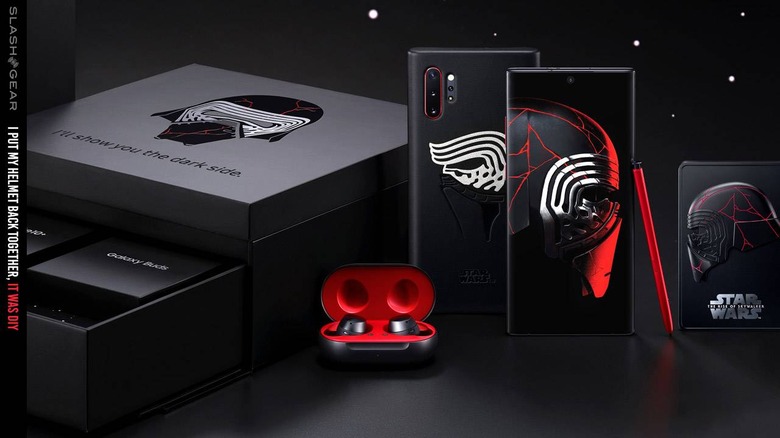 The first special edition Star Wars: The Rise of Skywalker smartphone has arrived, and it's very Dark Side, if you know what I mean. It's a Samsung Galaxy Note 10 Plus (or 10+, if you prefer), made in a limited edition for the launch of Star Wars: The Rise of Skywalker. It's largely black, centering on the aesthetics of Kylo Ren, and comes with its very own extremely bright red lightsaber S Pen.
The device itself is black with red accents, in addition to the S Pen with a black clicker and a red body. The Galaxy Note 10+ has a First Order insignia on its back along with the logos for Samsung and Star Wars. The volume rocker and the power button on this device are both bright red, as well. There'll one single version of this device.
This device will come in a bundle with a "specially designed case" – that's leather with a Kylo Ren image on its back. It'll also have a "metal badge as a collector's item" and a pair of Galaxy Buds. The buds are black with a black-exterior case with a red inside – bright!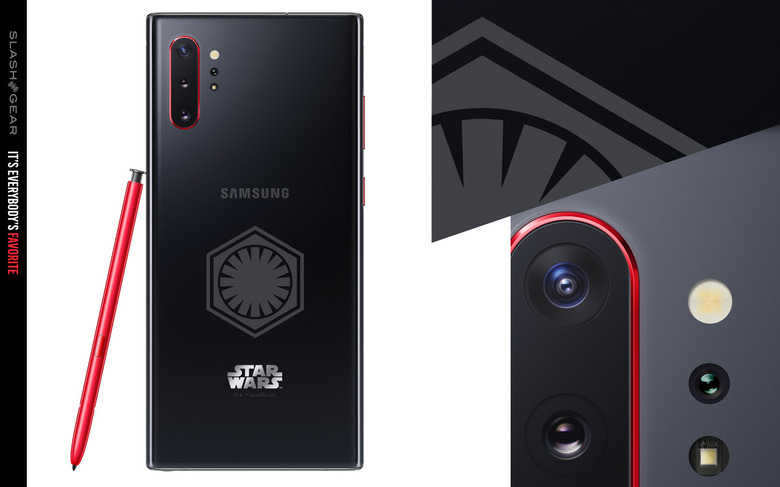 This device comes with "exclusive Star Wars-themed content" inside – that's digital content. That includes wallpapers, shutdown animations, icons, and sounds made specifically for this device.
You'll be able to attain this limited Galaxy Note 10+ Star Wars Edition straight from Samsung for approximately $1,300 USD. That'll be Unlocked and available starting on December 13, 2019. This device will be available at select Samsung Experience Stores, Samsung dot com, Microsoft Stores, Best Buy, and Amazon.
Also there's a Chewbacca dog that's used to promote the new cross-branding. Oddly the new special limited edition Star Wars Galaxy Note 10+ does not appear in the commercial. Instead, it would seem that Samsung's more keen on promoting their slightly more commonly-available versions of their devices while they high-five Star Wars and the adoption of baby animals at the same time.