Galaxy Note 10 leaks again: DeX Live, cheaper model battery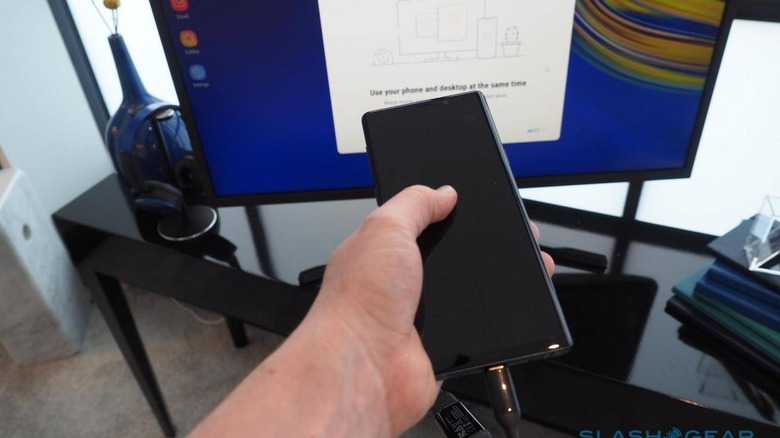 While the Galaxy S10 seems to be off on a good start, Samsung's next flagship is already drawing criticism even before it has the chance to debut. Just based on leaks, the Galaxy Note 10 is dividing fans on the direction that Samsung might be taking the phablet whose future is already being put into question. One of the latest tidbits to become public might not help improve that perception either.
It is already expected that the Galaxy Note 10 will come in two models. One is a "Pro" model that has all the bells and whistles that users expect from the Galaxy Note line while the other is a cheaper variant, tentatively called the Galaxy Note 10e. Little is known about the latter but one new detail has popped up that might disappoint some.
According to GalaxyClub, the SM-970 believed to be this more affordable model will have a battery capacity of 3,400 mAh. That's a far cry from the SM-N975 "Pro" 4,500 mAh battery and could turn off those who expect a Galaxy Note to have a bigger pack than most flagships. That said, it's still higher than the Galaxy S10e's 3,100 mAh battery and equal to the Galaxy S10's, so it might not be a total loss for a budget version of the device.
GalaxyClub also came across a filing in Europe for the DeX Live brand. DeX, as some may remember, is Samsung's custom Android desktop experience. What's new in that filing is the mention of "wireless networks", hinting that DeX Live will expand the feature beyond requiring a dock or HDMI cable.
Given the timing, there's a high chance this new DeX mode will debut on the Galaxy Note 10. The question is whether the Galaxy Note 10e will have it as well if it can even do DeX at all. Older Galaxy flagships may eventually get the feature but, considering this is Samsung, that's not always certain.