There might be a new wave of Android smartphones becoming available in the US. Initially presumed reserved for emerging markets or less, Android Go phones have slowly been creeping into the US. That was heralded by the ZTE Tempo Go and followed by the likes of Nokia, Alcatel, and Motorola. Now it seems that Samsung will be following suit with the Galaxy J2 Core being sighted in US certifications. That said, it will most likely be an Android Go in Samsung's own terms, design, and usually higher price.
Unlike Android One, Android Go doesn't come with the requirement to ship with a pristine version of Android. Android Go, after all, is just a special configuration of Android made to run on hardware-constrained devices and that's really it's defining mark. OEMs are still free to customize it the way the want as long as they adhere to that quality in principle.
Not so surprisingly, Samsung has taken advantage of that leeway to give the Galaxy J2 Core its distinct identity, separating it a bit from other Android Go phones. That comes via a skin and some pre-loaded apps. Thankfully, it hasn't gone overboard, considering how limited the smartphone is. It runs on an Exynos 7570 processor with 1 GB of RAM, 8 GB of storage, has a 5-inch 960×540 LCD screen, and is powered by a 2,600 mAh battery.
SamMobile notes that while the Galaxy J2 Core has so far been launched in India and Malaysia, there are signs it might be coming to the US soon. Wi-Fi and FCC certifications prove that the phone has at least been tested for compliance in the US. It also suggests it might just be around the corner.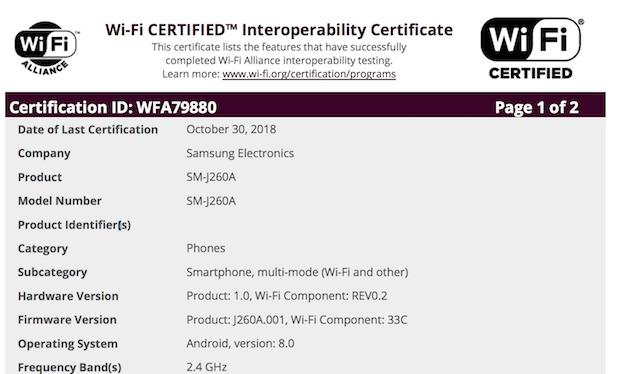 If it does come, it will most likely be sold through the prepaid arms of US carriers rather than the carriers themselves. And while Samsung sells the Galaxy J2 Core with the equivalent price of $90 elsewhere, we can expect it to cost more than its Android Go siblings when it hits US shores.