Galaxy Fold gets Dex on PC feature, PlayGalaxy Link coming soon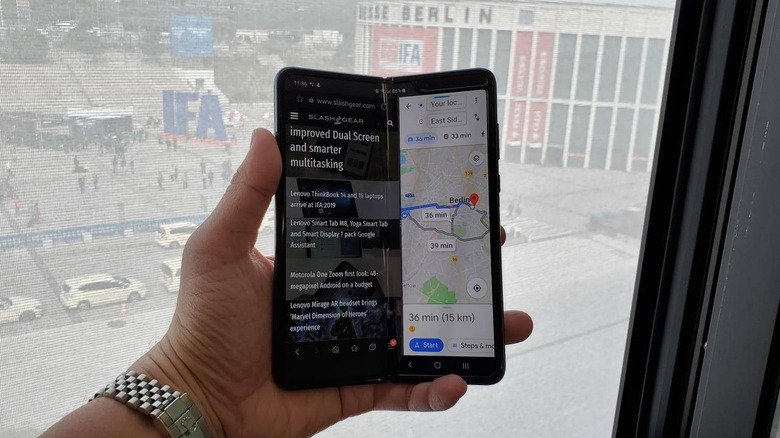 The purpose of the Galaxy Fold and the main reason why it costs $2,000 is to offer mobile users a larger screen when they need it while still have something they can, very gently, stow in their pockets when they don't. Mobile screens, however, will never be big enough for some activities, especially when compared with even a laptop screen. Fortunately, a new update for the most expensive consumer Samsung phone ever offers exactly that by letting the Galaxy Fold takeover a PC or Mac.
It's not really a takeover as it is squatting inside Windows or macOS. Dex on PC takes Samsung's odd yet useful idea of turning an Android phone into a desktop by connecting it to a larger screen. In this case, however, the phone is connected via USB to an already running computer and DeX sits in a window of its own in the middle of your desktop.
The latest 879 MB update, which also brings the November 2019 security patches, delivers that functionality to the Galaxy Fold. Since the phone itself can't run DeX mode directly (unlike the Galaxy Tab S6), this is the only other way to put that DeXtop on a large screen, giving users easier access to apps and data and to seamlessly move files between the two operating systems.
Some updates are less practical even if they're nice to have. Samsung is also planning to add the Galaxy Fold to its supported devices for PlayGalaxy Link. Like a mix of Google Stadia and Steam Link, this feature would let users play games installed on their PC from their phone, be it on the same local network or even via 4G/5G connectivity. Given the fragility of the foldable screen, however, using the Galaxy Fold as a controller might not be the best idea.
Fortunately, PlayGalaxy Link is also going to roll out to sturdier phones like the Galaxy S9, Galaxy Note 9, and even the Galaxy A90. This will all happen next month but interested users should note that the feature is still in beta and is limited to Australia, Canada, France, Italy, the Netherlands, Russia, Singapore, South Korea, the US, and the UK.