Galaxy Fold 2 may ditch plastic display for 'ultra-thin glass'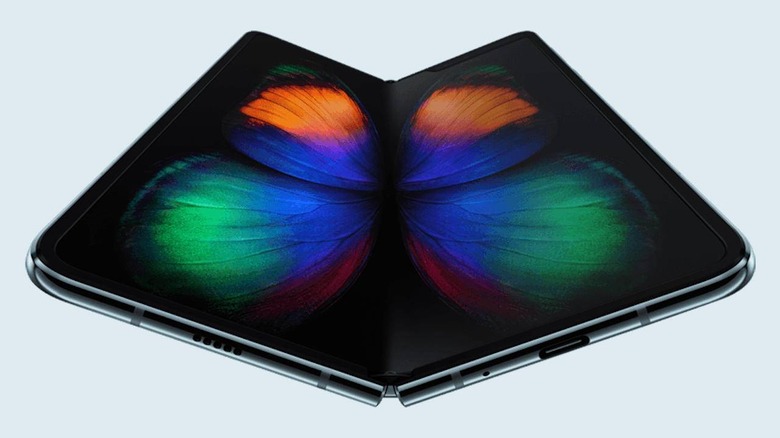 It's fairly common knowledge at this point that the first Galaxy Fold had something of a rocky start. Early on – before the phone entered wide release – some reviewers found that the open design of the hinge could allow for the display to be damaged, which led Samsung to delay the release of the phone to fix some components of its design. The Galaxy Fold was eventually released in September, so with this initial handset out of the way, a lot of users are curious to see what Samsung will do with a follow-up.
Even though the original Galaxy Fold is only a few months old, there have already been numerous rumors and leaks about the Galaxy Fold 2. The most recent leak came last week, in which a number of images of a supposed Galaxy Fold 2 prototype were posted to Weibo.
It can be confirmed that the Galaxy Fold2 leaked not long ago will use an ultra-thin glass cover for the first time in the world, replacing plastic materials. The screen looks flatter and has less wrinkles. In fact, this is the correct cover material for foldable phones. pic.twitter.com/BS73BCsA4N

— Ice universe (@UniverseIce) December 24, 2019
Those images gave us a look at the Galaxy Fold 2 in both its folded up and unfolded configurations, and today, noted Twitter leaker Ice Universe is building on what we saw last week. In a tweet today, Ice Universe claimed that the new Galaxy Fold will use an "ultra-thin glass" cover for the display instead of the plastic we saw on the original Galaxy Fold.
That could provide a number of benefits to the overall design of the phone. Prior to launch, we saw some complaints about the Galaxy Fold's display bulging or wrinkling, and if Samsung were to swap out the plastic with glass, the display would be more resistant to that. As Ice Universe points out, opting for glass in the Galaxy Fold 2 could also help make the folding display appear flatter.
Of course, once concern about using glass instead of plastic could be increased fragility, especially in a phone where a folding display is the main selling point. Given the level of interest in the Galaxy Fold 2, it probably won't be long before we see another leak, but hopefully it also won't be long before we hear something official from Samsung.