Galaxy Fit Tracker Seen Alongside Galaxy Buds, Galaxy Watch Active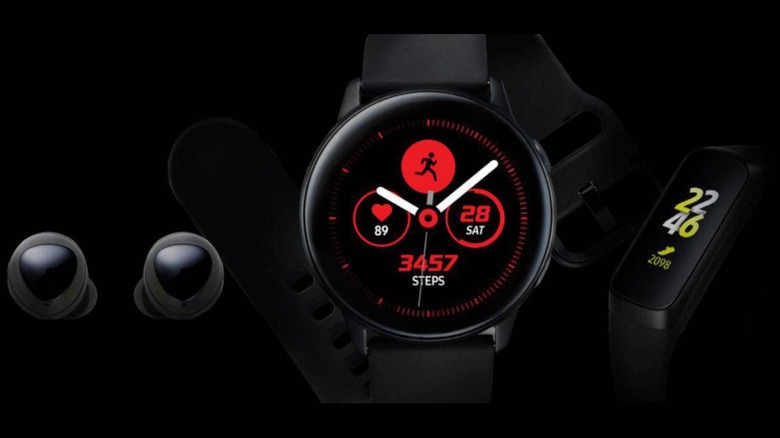 It seems that Samsung is truly retiring the Gear brand, putting all its mobile products under a single "Galaxy" name, regardless of form or operating system. That has started with the Gear Watch, now Galaxy Watch, and the rumored Galaxy Buds that will succeed the Gear IconX. Now it seems that Samsung itself has accidentally confirmed that the Gear Fit trackers will also experience a change, but the new Galaxy Fit and Galaxy Fit e will bring more than just a new name.
Rumors of Samsung's next fitness wearable started floating around last month when the name was spotted together with the Galaxy Buds. Given that thee latter is all but confirmed, it goes to reason that the Galaxy Fit is also real. Thanks to Samsung pushing some things to its Galaxy Wearable (formerly Samsung Gear) app, now we know how close all of those were to reality.
The app shows the selection of new wearables you can add, including three that haven't even been released yet. We've seen the Galaxy Watch Active, of course, and this image of the smartwatch confirms the lack of a bezel ring. There's also the Galaxy Buds, coming in black and white colors.
It is, however, the first time we're seeing the Galaxy Fit, billed to be the Fitbit Charge 3's new rival. Just like with the Galaxy Watch Active, Samsung has made a rather drastic design change, throwing away the curved screen for a flat one. We'll have to see what else the wearable has in store and whether the new aesthetic will make it more appealing to buyers.
Here's the new Galaxy Fit E render, extracted from the APK. Also, here are renders of the Galaxy Watch Active and Galaxy Buds, but you've already seen those before. pic.twitter.com/jU9tj1id29

— Mishaal Rahman (@MishaalRahman) February 15, 2019
The app makes mention of a Galaxy Fit e model, which could be a more wallet-friendly version of the fitness tracker. If so, then there's also a chance that Samsung has indeed adopted that naming convention and will call the Galaxy S10 Lite as the Galaxy S10e instead.