Galaxy Buds+ could have support for iPhones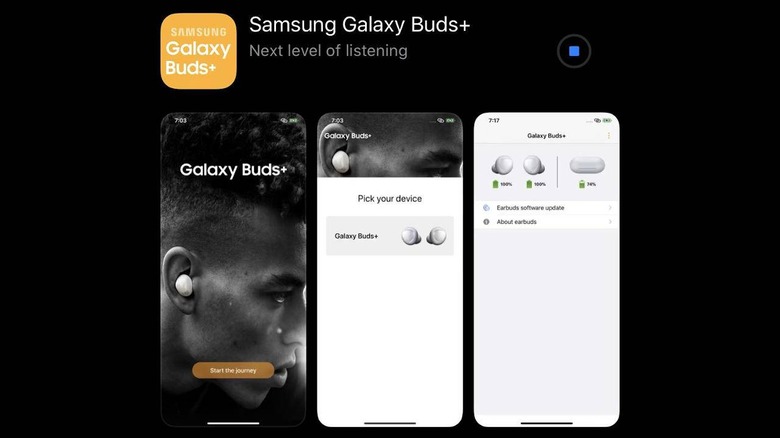 Samsung is expected to announce four smartphones next week, namely the three Galaxy S20 phones and, of course, the Galaxy Z Flip. Those might not be the only products that debut that day and the company's successor to its rather competitive earbuds may also make an appearance. While most of Galaxy Buds+ core details are already known unofficially, the company may actually have one surprise up its sleeve, this time for iPhone users.
While not exactly the best in the market, the Galaxy Buds have often been regarded as offering an acceptable middle ground between price and performance. Its successor, the Galaxy Buds+, seems to continue that theme, taking a step forward but not fully jumping to the next level. It will, for example, have a larger battery but still miss out on active noise cancellation.
It might not be that appealing to those who already own the first-gen pair but Samsung might be making an appeal to smartphone users from the other side of the fence instead. Screenshots from Ishan Agarwal as well as XDA's Max Weinbach reveal a Samsung Galaxy Buds+ app that doesn't look like any of Samsung's current apps or screens. Instead, it looks more like an iPhone app.
Very Samsung if you, Samsung. pic.twitter.com/4aYXNw6AsS

— Max Weinbach (@MaxWinebach) February 4, 2020
The iconography, notifications, and navigation pill at the bottom all suggest that the Galaxy Buds+ will be compatible with iPhones, something its predecessor wasn't able to accomplish. The screens also suggest that the app will be able to tell the battery levels not just of each bud but of the charging case itself. They don't show whether other controls will also be available to iPhone users.
Wow as usual... The wearables find always find their way to get leaked through at least some official medium, this time it's an iPhone app (The Galaxy Buds didn't have one so, cool). pic.twitter.com/IzLlSye1Z0

— Ishan Agarwal (@ishanagarwal24) February 4, 2020
The Galaxy Buds+ availability on iPhones isn't just an attempt to compete with the more expensive AirPods that don't offer a wireless charging case out of the box, it will also challenge cheaper pairs from the likes of Xiaomi that may not offer the same conveniences and quality. That said, it isn't known whether iPhone support will be available on Day One or if it will come later after the buds have launched.